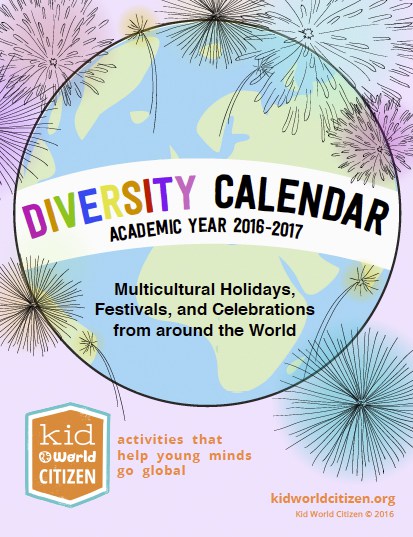 KidWorldCitizen
 has created this amazing Diversity Calendar for the school year 2016-17!
The calendar is a detailed collection of holidays around the world. It covers a wide range of holidays, from religious to environmental and fun ones. Have you ever heard of Elephant Appreciation Day or International Friendship Day?
These are some of the 285 holidays included:
Birthday of Confucius
Albuquerque Hot Air Balloon Festival
Rosh Hashanah
Vaisakhi (Sikh New Year)
Shichi–Go–San (Shinto)
Milad un Nabi (Prophet Muhammad's Birthday, Islam)
International Polar Bear Day
Martenitsa day (Bulgaria and Balkan Peninsula)
Endangered Species Day
National Aboriginal Day (Canada)
      …. and many, many more!
The calendar is very useful for multicultural bloggers and for teachers who want to plan global diversity activities.
To purchase the Diversity Calendar 2016-17, visit the Kid World Citizen store at Teachers Pay Teachers.
*Disclosure: I received a free copy of the diversity calendar*
---
Holidays & Commemorative Days/Weeks/Months on Colours of Us
---
February
---
Valentine's Day: Multicultural Children's Books about Love
21 Picture Books for Black History Month
---
March
---
Women's History Month: 26 Multicultural Picture Books Biographies about inspiring women & girls
Mixed Heritage Week: 50+ Picture Books about Mixed Race Families
---
April
---
15 Multicultural Children's Books about Easter
International Jazz Day: 18 Multicultural Children's Books about Jazz
National Poetry Month: 26 Multicultural Poetry Books for Children
22 Multicultural Children's Books for Earth Day
---
May
---
5 Children's Books about the Dragon Boat Festival
21 Children's Books about Ramadan and Eid
Mother's Day: 14 Multicultural Children's Books about Mothers
Children's Book Week: 15 Multicultural Children's Books celebrating books & reading
Asian Pacific American Heritage Month: 30 Asian & Asian American Children's Books
---
June
---
Immigrant Heritage Month: 30 Multicultural Children's Books about Immigration
10 Children's Books celebrating Juneteenth
Father's Day: 40 Multicultural Children's Books about Fathers
---
---