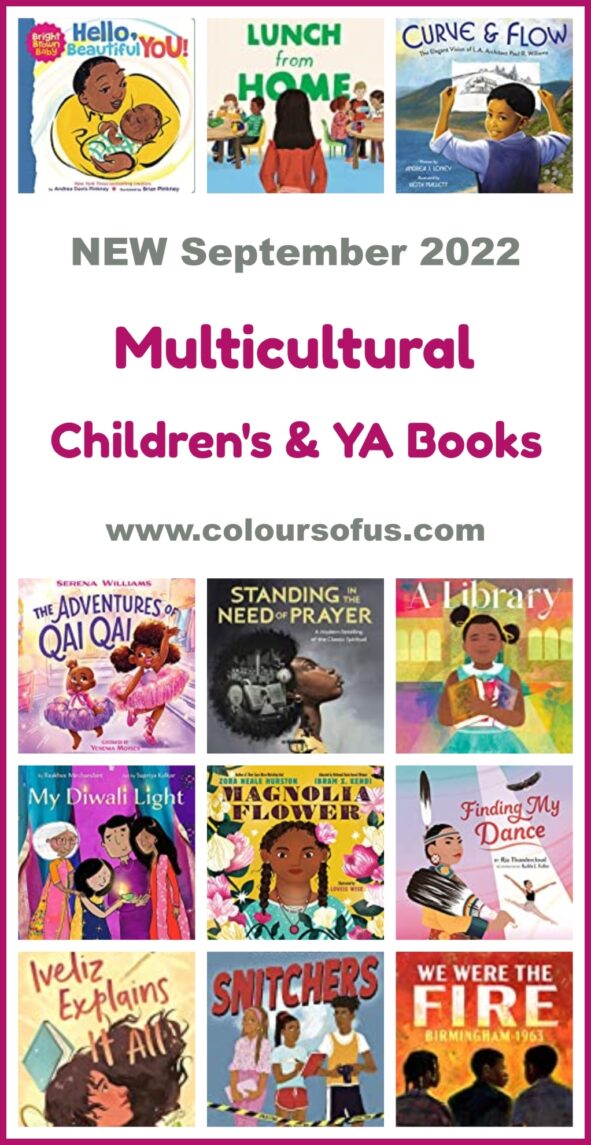 So many wonderful new multicultural children's and YA books this month! I could have added a few more but then this list would probably only have been published in October… Our favourites for September are Hello, Beautiful You! (Babies & Toddlers), Lunch From Home (Preschool), Standing in the Need of Prayer (Elementary School), We Were The Fire (Middle School), and As Long As The Lemon Trees Grow (High School). Enjoy browsing!
---
NEW Multicultural Children's & YA Books September 2022
---
---
Babies & Toddlers
---
Hello, Beautiful You! 
by Andrea Davis Pinkney
"Brown baby, born bright. / Greet the world. Spread your light." Get ready for sweet togetherness as you snuggle up with your little one and show them how truly extraordinary and beautiful they are. With bouncing text and charming illustrations, Hello, Beautiful You is a joyful celebration of Black and brown joy, babies, and families.
More in the Bright Brown Baby series: Bright Brown Baby // Count to LOVE! // Peek-a-You!
---
Brown Baby Jesus: A Picture Book
by Dorena Williamson
Like Moses, brown baby Jesus would be a deliverer. Like Rahab, brown baby Jesus would save His people from destruction. Like David, brown baby Jesus would rule as a great king. With an unconventional Christmas setting of Egypt and written in sweet, lyrical prose, Brown Baby Jesus is a unique retelling of the Nativity story rich with Scripture, historical accuracy, and a multicultural weaving of love. ~ African – Babies & Toddlers
Related: 12 Multicultural Children's Books about the Nativity Story
---
Little Santa's Workshop
by Lala Watkins
Discover the magical world of Little Santa's Workshop! Step inside the toy workshop, feed candy canes to the reindeer, and taste a sugary sweet in the kitchen. With bright illustrations, Little Santa's Workshop is full of Christmas joy and good vibes. So pack your snow boots and travel to the North Pole! ~ African – Babies & Toddlers
Related: 40 Multicultural Children's Books about Christmas
---
---
Preschool
---
Me Gusta
by Angela Dominguez
"Me gusta your smile, tu sonrisa, / and your hugs, tus abrazos. / Me gusta when we explore this spectacular world, el mundo, /
and gaze at all the stars, las estrellas. / But most of all, me gusta that no matter where we are, I feel at home, en casa, when I'm with you." Me Gusta is an encouraging bilingual picture book that celebrates Latinx families by highlighting moments of connection and delight and feelings of safety and home, even through challenges and difficult times. ~Hispanic – Preschool
Related: Pura Belpré Award Winners 1996 – 2022
---
Song in the City
by Daniel Bernstrom
A blind young girl, filled with the sounds of her beloved city, shares a song with her grandmother that changes the two forever. After helping Grandma realize that the city makes music as beautiful as the sounds they hear in church on Sunday morning, the two sit down and take in all the sounds of the city…together. Song in the City bridges the gap between generations of music and family, while centering love, understanding, and joy. ~ African – Preschool
Related: 8 Multicultural Children's Books Featuring Blind Children
---
Dear Black Child
by Ramah Rodaah
"Dear Black Child, / We are here to remind you of your glory…" Dear Black Child is a moving and lyrical tribute to and affirmation of Black children around the world, a story of self-acceptance, love, joy, and resilience by an exciting new author and illustrator team. ~ African – Preschool
Related: 20 Multicultural Children's Books To Help Build Self-Esteem
---
The Adventures of Qai Qai
by Serena Williams
"Don't be scared, Best Friend! I'm right here with you, always!" "But what if I'm not good enough?" "Girl!" Qai Qai answered. "You're already good enough when you walk in the door! Come on, let me show you." Baby Girl worries about an upcoming dance recital. What if she forgets the steps or freezes up during her solo? Luckily, her best friend Qai Qai the doll has her back! When Qai Qai comes to life, they go on a magical journey that shows Baby Girl that she's ready for the stage. Written by superstar athlete Serena Williams, The Adventures of Qai Qai is a heartwarming picture about the power of believing―in your best friend and in yourself. ~ African – Preschool
Related: 18 Multicultural Children's Books about Fear and Courage
---
Charlie Makes a Splash!
by H. Robinson Peete & S. Evans
Like many kids on the autism spectrum, Charlie finds solace and empowerment in pools, ponds, sprinklers, visiting the aquarium, and swimming in the ocean. Through his adventures and discoveries, he shows the world that even though he has autism, autism doesn't have him. A beautiful ode to the love between siblings Callie and Charlie, Charlie Makes A Splash! returns to the characters from the award-winning My Brother Charlie, showing readers that kids who may experience the world in different ways can help us see the wonders of swimming to your own rhythm. ~ African – Preschool
Related: 16 Multicultural Children's Books about Autism
---
Mary Had a Little Plan
by Tammi Sauer
"Mary had a little plan / that sprouted on the spot. / It all began the day she passed / a drab, abandoned lot." Fashion-forward Mary is known for adding flair everywhere she goes. When she spots an abandoned lot in her neighbourhood, Mary knows she can use her stylish talent to spruce it up. Soon she's rallying neighbourhood shops and calling on her friends to help. With Mary leading the way, this group carries out her little plan that has a big impact on her community! With adorable illustrations, Mary Had A Little Plan follows the spunky little protagonist from Mary Had a Little Glam on her second adventure. ~ African – Preschool
Related: 250 Children's Books Celebrating Black Girls
---
I Have a Superpower
by Stephen Curry
Stephen Curry's journey to the NBA wasn't easy. Coaches and recruiters repeatedly told him he was too small to make it in the big leagues. But Stephen used their doubts to shape his ever-positive attitude and fuel his own underdog success story. Now, Curry pens an original story to inspire the next generation of go-getters and big dreamers. I Have a Superpower is the empowering story that teaches kids you don't have to be the strongest, fastest, or even tallest kid out on the court. So long as you have heart, any goal is achievable through hard work and determination—even without a cape! ~ African – Preschool
Related: 30 Multicultural Children's Books featuring Superheroes
---
Lunch from Home
by Joshua D. Stein
What happens when a child's favourite packed lunch is met with disparaging comments at the school lunch table? In a classroom of sandwiches, four students stand out with their homemade, culturally-specific lunches. But before they can dig in, their lunches are spoiled by scrunched noses and disgusted reactions from their sandwich-eating classmates. Following each of the four students as they learn to cope with their first "lunch box moments", Lunch From Home is a heartwarming story that reminds us all that one's food is a reflection of self and an authentic celebration of culture. ~ Diverse – Preschool
Related: 30 Multicultural Picture Books about Immigration
---
Friends
by Daniela Sosa
There are many kinds of friends—old friends, new friends, friends that last a lifetime—and the day to make new friends is always near, if you look. This story celebrates all of them: who they are, where we find them, and what we count on them for. Friends is a joyful, resonant picture book that celebrates the wonder of new friends, old friends, and everything-in-between friends. ~ Diverse – Preschool
Related: 18 Multicultural Children's Books about Friendship
---
Playtime for Restless Rascals
by Nikki Grimes
"Time to get to work, little one," I tell you. / "What work?" you ask. / Like always, you pretend not to understand. / "Your job is called Play," I say." Mom needs to wake up her child whose job is to play. From dancing in puddles to jumping in leaves, and swinging high enough to almost reach the sun, there's so much to do in a fun-filled day. Playtime for Restless Rascals is a whimsical adventure and rollicking celebration of playtime fun. ~ African – Preschool
---
My Diwali Light
by Raakhee Mirchandani
Devi loves the Diwali season. It's a time to wear her favorite red bindi and eat samosas until she bursts! Makemithai and design rangoli with her Papa. And paint diyas with her nani—a reminder to shine her light brightly all year long. With vibrant collage illustrations, My Diwali Lights is a charming story that follows one girl's family as they celebrate their Diwali traditions with the ones they love. ~ Asian – Preschool
Related: 21 Children's Books about Diwali, the Festival of Lights
---
The Very Best Sukkah: A Story from Uganda
by Shoshana Nambi
Sukkot is Shoshi's favorite Jewish holiday. She and her brothers love to decorate their sukkah, the hut where her family will celebrate. But who will win the Ugandan Abayudaya community's annual sukkah contest? While only one sukkah can be the best, everybody wins when neighbors work together. The Very Best Sukkah is a gorgeously illustrated, sweet story about family, tradition, and community. ~ African – Preschool
Related: 24 Diverse Jewish Books for Children & Teenagers
---
---
Elementary School
---
Zuri Ray and the Backyard Bash
by Tami Charles
Zuri Ray is back! And this time, she's got a party to plan. With summer coming to an end, a backyard bash is an absolute must, and everything has to be perfect — the food, the decorations, the entertainment. Good thing her friends are ready to help! But when the party doesn't go exactly according to plan, will Zuri be able to improvise? Or will the chaos be too much to handle? Zuri Ray and the Backyard Bash is the second book in a charming picture book series about a fun, spunky girl with strong opinions, big ideas, and a huge heart. ~ African – Elementary School
Related: 40+ Multicultural Book Series for Girls & Boys
---
Ty's Travels: Zip, Zoom! (My First I Can Read)
by Kelly Starling Lyons
Ty can't wait to ride his brand-new scooter at the park. Other kids zip and zoom by like race cars, but all Ty can do is wobble! Ty wants to give up, but a new friend helps Ty give it another try. With simple, rhythmic text and joyful, bright art, Ty's Travels celebrates imagination and the power of persistence. ~ African – Elementary School
Related: 18 Multicultural Children's Books about Fear and Courage
---
Curve & Flow: The Elegant Vision of L.A. Architect Paul R. Williams
by Andrea J. Loney
As an orphaned Black boy growing up in America in the early 1900s, Paul R. Williams became obsessed by the concept of "home." He turned his dream of building his own home into drawings. Defying the odds and breaking down the wall of racism, Williams was able to curve around the obstacles in his way to become a world-renowned architect. He designed homes for big celebrities, such as Frank Sinatra and Lucille Ball, and created a number of buildings in Los Angeles that are now considered landmarks. Curve & Flow is a remarkable story of fortitude, hope, and positivity. ~ African – Elementary School
Related: 150 Children's Books Celebrating Black Boys
---
Kitten Around (Home for Meow #3)
by Reese Eschmann
Kira Parker lives above The Purrfect Cup, the cat café that her family owns. When her parents go on a weekend break, Granny is put in charge. But Kira's got so many great ideas to make her cat friends and customers happy that Granny allows her to take control. Between a new, overly-energetic cat and a line of customers that never seems to end, running the café is harder than it looks though! Will Kira be able to run everything smoothly . . . or will this weekend be a total cat-astrophe? Kitten Around is the third book in a fun-filled chapter book series about a cat café. ~ African – Elementary School
Related: The 30 Best Multicultural Chapter Books of 2021
---
A Library
by Nikki Giovanni
In what other place can a child "sail their dreams" and "surf the rainbow" without ever leaving the room? This ode to libraries is a celebration for everyone who loves stories, from seasoned readers to those just learning to love words, and it will have kids and parents alike imagining where their library can take them. With inspiring text and stunning illustrations, A Library is an ode to the magic of a place for knowledge, imagination, exploration, and escape. ~ African – Elementary School
Related: 19 Multicultural Children's Books Celebrating Books & Reading
---
Shine Bright
by Kheris Rogers
When her confidence is shaken by peers who say they are scared of her because she's "too dark," Imani turns to her sister for a loving reminder that she's smart, hope, brave, beautiful, strong, and just enough. After embracing what makes her truly special, Imani learns to be fearless. Inspired by the real-life experiences of Kheris Rogers, the young CEO and designer of the Flexin' in My Complexion clothing line, Shine Bright is an empowering ode to dark-skinned girls. ~ African – Elementary School
Related: 250 Children's Books Celebrating Black Girls
---
The Science of Baking (Ada Twist, Scientist: The Why Files #3)
by Theanne Griffith
How does a cake bake? What's the difference between baking soda and baking powder? And why is it so important to measure the different ingredients in a recipe? Ada Twist, Scientist (The Why Files): The Science of Baking is the perfect resource for all these questions and more. Based on the bestselling series and the new Netflix show, this nonfiction series is perfect for the youngest scientists of tomorrow, as they learn along with Ada. Designed in a scrapbook format, these books combine art from the show, illustrations, and photography to bring simple science concepts to life. ~ African – Elementary School
Related: 50+ Multicultural STEAM Books for Children
---
Standing in the Need of Prayer: A Modern Retelling of the Classic Spiritual
by Carole Boston Weatherford
Stretching more than four hundred years, this book features pivotal moments in African American history, such as the arrival of enslaved people in Jamestown, Virginia, in 1619; Nat Turner's rebellion; the integration of the US military; the Selma to Montgomery marches; and peaceful present-day protests. It also celebrates the feats of African American musicians and athletes, such as Duke Ellington and Florence Griffith Joyner. Visually stunning Standing in the Need of Prayer reckons with a painful history while serving as a testament to the human spirit's ability to persevere in even the most hopeless of circumstances. ~ African – Elementary School
Related: NEW 2022 Black History Books for Children & Teenagers
---
Maya's Song
by Renée Watson
"Maya's momma was right. / Maya was a preacher, a teacher. / A Black girl whose voice /chased away darkness, ushered in light." Maya Angelou was the first Black person and first woman to recite a poem at a presidential inauguration, and her influence echoes through culture and history. She was also the first Black woman to appear on the United States quarter. Complemented by striking collage art, Maya's Song is a moving tribute to the life and work of a poet whose words have uplifted and inspired generations of readers. ~ African – Elementary School
Related: 40 Multicultural Children's Books About Fabulous Female Artists
---
Talent Showdown (That Girl Lay Lay #1)
by Jevon Bolden
Ever since her freestyle rapping video went viral, Lay Lay has been adjusting to her newfound fame. She loves the spotlight, but she's also just a normal kid who likes to hang out with her friends. Lay Lay and her squad sign up for her school's talent show, knowing they can each bring something special to it. But everyone at school assumes that only Lay Lay will be the star. Lay Lay hates that her crew has been pushed to the sidelines since she got famous. Can she make sure that everyone gets a chance to shine during the big show? Talent Showdown is the first in a new illustrated chapter book series featuring Lay Lay, the latest teen music sensation and Nickelodeon's newest star. ~ African – Elementary School
Related: 40+ Multicultural Book Series for Girls & Boys
---
Choosing Brave: How Mamie Till-Mobley and Emmett Till Sparked the Civil Rights Movement
by Angela Joy
Mamie Till-Mobley is the mother of Emmett Till, the 14-year-old boy who was brutally murdered while visiting the South in 1955. His death became a rallying point for the civil rights movement, but few know that it was his mother who was the catalyst for bringing his name to the forefront of history. Choosing Brave is a testament to the power of love, the bond of motherhood, and one woman's unwavering advocacy for justice. Timely, powerful, and beautifully told, this thorough and moving story has been masterfully crafted to be both comprehensive and suitable for younger readers. ~ African – Elementary School
Related: 100 Children's Books to help talk about Racism & Discrimination
---
Viva's Voice
by Raquel Donoso
Five-year-old Viva's Papi is a bus driver and Viva loves going to work with him. The sounds of the traffic and the voices of the passengers are music to Viva's ears. When she finds out that Papi's union is going on strike, she convinces Papi to take her along to the picket line. When quiet Papi is too nervous to give his speech, Viva uses her powerful voice to give him the confidence to find his own. A first introduction to labor unions, strikes, picket lines, and workers' rights, Viva's Voice is a powerful and endearing picture book based on the author's own childhood experience. ~Hispanic – Elementary School
Related: Pura Belpré Award Winners 1996 – 2022
---
Magnolia Flower
by Zora Neale Hurston & Ibram X. Kendi
Born to parents who fled slavery and the Trail of Tears, Magnolia Flower is a girl with a vibrant spirit. Not to be deterred by rigid ways of the world, she longs to connect with others, who too long for freedom. She finds this in a young man of letters who her father disapproves of. In her quest to be free, Magnolia must make a choice and set off on a journey that will prove just how brave one can be when leading with one's heart. Zora Neale Hurston's tenderly retold folktale Magnolia Flowers is a story of a transformative and radical devotion between generations of Indigenous and Black people in America. ~ African – Elementary School
Related: 250 Children's Books Celebrating Black Girls
---
Stacey Abrams: Lift Every Voice
by Sarah Warren
Daughter of two civil-rights activists, Stacey Abrams loved going into the voting booth with her parents on Election Day, knowing that their voices mattered. She loved school, even when she was the only Black student in her gifted classes. She loved her classmates at Spelman College — a historically Black institution — and worked hard to see they received the fair treatment they deserved. And today, she brings all those experiences to her role as politician, author, and voting-rights advocate. Stacey Abrams: Lift Every Voice follows Stacey's life from her girlhood to the present, but it also portrays the ordinary people that Stacey fights for — the beautiful and diverse America that shows up to stand with one another. Includes a timeline of changes in US voting-rights law from the Constitution through the present day. ~ African – Elementary School
Related: 18 Multicultural Children's Books About Voting & Elections
---
A Door Made for Me
by Tyler Merritt
In this story based on the author's childhood, a young Black boy confronts his first experience of overt racism. In recounting the events to his grandfather, the young narrator asks: "How can she hate me when she doesn't know me?" Grandpa offers wisdom and encouragement, reminding the boy that another person's hate does not change the fact that he is loved and that he matters. While offering an unflinching look at the emotional impact of the encounter, A Door Made For Me presents a message of love and acceptance and a starting point for conversations about racial equality. ~ African – Elementary School
Related: 100 Children's Books to help talk about Racism & Discrimination
---
Shapes, Lines, and Light: My Grandfather's American Journey
by Katie Yamasaki
Minoru Yamasaki described the feeling he sought to create in his buildings as "serenity, surprise, and delight." In Shapes, Lines, and Light his granddaughter charts his life and work, from his childhood in Seattle's Japanese immigrant community, to paying his way through college working in Alaska's notorious salmon canneries, his success in architectural school, and the transformative structures he imagined and built. A Japanese American man who faced brutal anti-Asian racism in post–World War II America and an outsider to the architectural establishment, he nonetheless left his mark on the world, from the American Midwest to New York City, Asia, and the Middle East. ~ Asian – Elementary School
Related: 180+ Asian & Asian American Books For Children & Teenagers
---
Black-Eyed Peas and Hoghead Cheese: A Story of Food, Family, and Freedom
by Glenda Armand
While visiting her grandma in Louisiana, nine-year-old Frances is excited to help prepare the New Year's Day meal. She listens as Grandma tells stories—dating back to the Atlantic Slave Trade—about the food for their feast. Through these stories, Frances learns not only about the ingredients and the dishes they are making but about her ancestors and their history as well. Black-Eyed Peas and Hoghead Cheese is a powerful picture book that celebrates African American cuisine and identity. Includes the author's family recipe for pralines. ~ African – Elementary School
Related: 40+ Multicultural Children's Books about Grandparents
---
Finding My Dance
by Ria Thundercloud
At four years old, Ria Thundercloud was brought into the powwow circle, ready to dance in the special jingle dress her mother made for her. As she grew up, she danced with her brothers all over Indian country. Then Ria learned more styles–tap, jazz, ballet–but still loved the expressiveness of Indigenous dance. And despite feeling different as one of the only Native American kids in her school, she always knew she could turn to dance to cheer herself up. With striking illustrations, Finding My Dance follows Ria's dance journey from dreaming of her future to performing as a professional dancer. ~ Diverse – Elementary School
Related: 100 Native American Children's Books // 22 Multicultural Children's Books About Brave Ballerinas
---
Bessie the Motorcycle Queen
by Charles R. Smith, Jr.
In 1929, 18-year-old Bessie Stringfield hopped on her motorcycle and headed out on an adventure, an unusual choice for a young Black woman at the time. Paying her way by winning motorcycle races, she criss-crossed the country through small towns, big cities, and wide open spaces. But not everyone was happy to see Bessie's brown face peeking out from underneath her helmet. More than once, Bessie had to make a quick exit to escape Jim Crow. Bessie The Motorcycle Queen is a powerful story about an amazing  Black trailblazer in the world of women's racing and motorcycling. ~ African & Elementary School
Related: 55 Multicultural Picture Books About Strong Female Role Models
---
Tacko Fall: To New Heights
by Reggie Brown
Tacko Fall was always tall, even as a child, but he wasn't always a slam-dunk star. On his first official day of training as a boy in Senegal, running up and down the basketball court was exhausting. The first time he tried weight-lifting, he could barely lift the bar, even with no weights on it! The game had many rules that he didn't understand, but Tacko set aside frustration and found the courage to keep working. The more he practiced, the more his skills grew, and the more reachable his goals became. Touching on immigration, determination, hard work, and the long road to success, Tacko Fall: To New Heights will motivate readers to overcome obstacles and aim high—and higher still. ~ African – Elementary School
Related: 44 Children's Books About Extraordinary Black Athletes
---
---
Middle School
---
Anisa's International Day
by Reem Faruqi
Pakistani American Anisa is super-excited about International Day and can't wait to share her mother's samosas with her class. But when someone else has the exact same idea, Anisa is crushed. Going to her aunt's dholki party gives her an idea for the perfect activity instead—mehndi! There's only one problem: Anisa's best friend doesn't seem to like the idea. She doesn't even seem to like Anisa anymore. Will Anisa ever get to enjoy International Day? Filled with fun illustrations, recipes, and activities in the back matter, Anisa's International Day is an irresistible younger middle grade novel. ~ Asian – Middle School
Related: 15 Children's Books set in Pakistan
---
Prank Day
by Kel Mitchell
Prank Day is a laugh-out-loud novel that follows Chase as he masterminds a series of epic pranks only to discover that they have all become real on April 2nd. How will he set the world right again, catch the eye of his crush Zoe, and keep her from getting flattened by the refrigerator running all over town? This comedy-fantasy adventure is full of wackiness and mayhem while teaching the value of taking responsibility for your actions and telling the truth. ~ African – Middle School
Related: 10 Laugh-Out-Loud Funny Multicultural Picture Books
---
Iveliz Explains It All
by Andrea Beatriz Arango
Seventh grade is going to be Iveliz's year. She's going to make a new friend, help her abuela Mimi get settled after moving from Puerto Rico, and she is not going to get into any more trouble at school. . . . Except is that what happens? Of course not. Because no matter how hard Iveliz tries, sometimes people say things that just make her so mad. And worse, Mimi keeps saying Iveliz's medicine is unnecessary—even though it helps Iveliz feel less sad. But how do you explain your feelings to others when you're not even sure what's going on yourself? Powerful and compassionate, Iveliz Explains It All navigates mental health, finding your voice, and discovering that those who really love you will stay by your side. ~ Hispanic – Middle School
Related: Pura Belpré Award Winners 1996 – 2022
---
Moonflower
by Kacen Callender
Moon's depression is overwhelming. Therapy doesn't help, and Moon is afraid that their mom hates them because they're sad. Moon's only escape is traveling to the spirit realms every night, where they hope they'll never return to the world of the living again. The spirit realm is where they have their one and only friend, Wolf, and where they're excited to experience an infinite number of adventures. But when the realm is threatened, it's up to Moon to save the spirit world. With the help of celestial beings and guard­ians, Moon battles monsters and shadows, and through their journey, they begin to learn that a magical adventure of love and acceptance awaits them in the world of the living, too. Moonflower is a stunning novel about a child's struggles with mental health, and their journey to wholeness. ~ African – Middle School
Related: 5 Multicultural Picture Books about Mental Illness
---
The Vanquishers
by Kalynn Bayron
Malika "Boog" Wilson and her best friends have grown up idolizing The Vanquishers, a group of heroic vampire hunters who wiped out the last horde of the undead decades ago. When a friend goes missing, Boog isn't sure what to think. Could it be the school counselor, Mr. Rupert, who definitely seems to be hiding something? Or could it be something more dangerous? Boog is determined to save her friend, but is she ready to admit vampires might not be vanquished after all? The Vanquishers is the first book in a exciting new middle grade series. ~ African – Middle School
---
We Were the Fire: Birmingham 1963
by Shelia P. Moses
Rufus Jackson Jones is from Birmingham, a place that in 1963 is full of civil rights activists including Dr. King. The adults are trying to get more attention to their cause–to show that separate is not equal. Rufus's dad works at the local steel factory, and his mom is a cook at the mill. If they participate in marches, their bosses will fire them. So the kids decide to come in since nobody can fire them. Rufus and his buddies join thousands of other students to peacefully protest in a local park where they are met with policemen and firemen who turn their powerful hoses on them. That's when Rufus realizes that they are the fire. And they will not be put out. We Were The Fire is a deeply personal account of what came to be known as the Birmingham Children's Crusade, a key turning point in the civil rights movement. ~ African – Middle School
Related: NEW 2022 Black History Books for Children & Teenagers
---
Eden's Everdark
by Karen Strong
Grieving the loss of her mother, Eden visits Safina Island, her ancestral home, as a healing balm. But when she discovers an old sketchbook that belonged to her mother, she's haunted by the images she sees drawn there. Days later, exploring the island alone, Eden follows a black cat through a rift in the bright day. She stumbles into Everdark, a parallel world where the sun never rises, where spirits linger between death and the afterlife, and where everything from her mother's drawings is all too real—especially the Witch of Everdark, who wants to make Eden her eternal daughter. Can Eden find a way to defeat the witch's magic? Or will she remain trapped in Everdark forever? Eden's Everdark is a haunting and ultimately uplifting middle grade novel about grief, family, and decades-old magic. ~ African – Middle School
Related: 52 Multicultural Middle Grade & Young Adult Fantasy Books
---
Black Panther: Uprising (The Young Prince)
by Ronald L. Smith
Back in Wakanda, 13-year-old T'Challa misses his friends and is thrilled when Sheila and Zeke come for a surprise visit. But their introduction to the wonders of Wakanda takes a dark turn when the terrifying Originators are unleashed from the kingdom's past. The elders of Wakanda, including T'Challa's parents, are banished to a place beyond space and time. To save his nation, T'Challa will need the help of all his friends, including M'Baku and his sister, Shuri. It's a supernatural showdown between Wakanda's past and its future, and it will challenge all that T'Challa thinks he knows about his home. The third book in the Young Prince trilogy, Black Panther: Uprising brings the series to an epic conclusion. ~ African – Middle School
Related: 52 Multicultural Middle Grade & Young Adult Fantasy Books
---
Shot Clock (Shot Clock, 1)
by C. Butler & J. Reynolds
Tony loves basketball. But the game changed recently when his best friend, Dante, a hoops phenom, was killed by a police officer. Tony hopes he can carry on Dante's legacy by making the Sabres, the AAU basketball team Dante took to two national championships. Tony doesn't make the team, but Coach James likes what he sees from Tony at tryouts and offers him another chance: join the team as the statistician. With his community reeling and the team just finding its footing on the court, can Tony find a path to healing while helping to bring the Sabres a championship? Written by former NBA All-Star Caron Butler and acclaimed author Justin A. Reynolds, Shot Clock is the first book in a new middle grade series. ~ African – Middle School
Related: 44 Children's Books About Extraordinary Black Athletes
---
Lotus Bloom and the Afro Revolution
by Sherri Winston
Lotus Bloom just wants to express herself–with her violin, her retro style, and her peaceful vibe, not to mention her fabulous hair. This school year, she is taking her talent to the seventh grade at a new school of the arts. But Lotus's best friend, Rebel, thinks Lotus should stay at their school. Why should this fancy new school get all the funding and pull the brightest kids out? Rebel wants Lotus to help her protest, but Lotus isn't sure. But then she finds herself in trouble for a dress code violation and must choose to stay quiet and risk her beloved hair, or to risk everything to fight back. Lotus Bloom and the Afro Revolution is an inspiring story about a Black girl who summons the courage to fight against a discriminatory dress code. ~ African – Middle School
Related: 60+ Multicultural Children's Books about Hair & Skin
---
Maya and the Lord of Shadows (Maya and the Rising Dark)
by Rena Barron
War is coming. Despite everything Maya and her father have done, the veil that protects the human world is failing. The Lord of Shadows has raised an army powerful enough to challenge the orishas. And it's only a matter of time before he breaks through the veil and destroys Maya's neighborhood and the rest of the world. Maya and her friends aren't going down without a fight. She's honing her guardian powers, with the help of two new allies—her long lost guardian sister and a mysterious darkbringer (who might be a double agent). But when an attack hits close to home, Maya doesn't have any more time to prepare. Will she succeed or will Darkness prevail, once and for all? Maya and the Lord of Shadows is the final book in the acclaimed Maya and the Rising Dark trilogy. ~ African – Middle School
Related: 52 Multicultural Middle Grade & Young Adult Fantasy Books
---
Astrology for Black Girls: A Beginner's Guide for Black Girls Who Look to the Stars
by Jordannah Elisabeth
Astrology for Black Girls is a charming introduction to the wonders of self-discovery and empowerment through the Zodiac. This book provides information about the sun, moon, rising signs, and more. Author and life-long astrology practitioner Jordannah Elizabeth speaks to Black girls about practicing both faith and astrology, talking to family and friends about the stars, and using the Zodiac for discovery and understanding. ~ African – Middle School
---
---
High School
---
The Weight of Blood
by Tiffany D. Jackson
An outcast at her small-town Georgia high school, Madison Washington has always been a target for bullies. One morning her most closely kept secret is revealed: Maddy is biracial. She has been passing for white her entire life at the behest of her fanatical white father, Thomas Washington. After a racist video goes viral, student leaders plan to host the school's first integrated prom as a show of unity. The popular white class president convinces her Black superstar quarterback boyfriend to ask Maddy to be his date, leaving Maddy wondering if it's possible to have a normal life. But some of her classmates aren't done with her just yet. And what they don't know is that Maddy still has another secret . . . one that will cost them all their lives. The Weight of Blood is a suspenseful young adult novel that tackles America's history and legacy of racism. ~ African – High School
Related: 100 Children's Books to help talk about Racism & Discrimination
---
As Long as the Lemon Trees Grow
by Zoulfa Katouh
Salama Kassab was a pharmacy student when the cries for freedom broke out in Syria. Now she volunteers at a hospital in Homs, helping the wounded who flood through the doors daily. Secretly, though, she is desperate to find a way out of her beloved country before her sister-in-law, Layla, gives birth. So desperate, that she has manifested a physical embodiment of her fear in the form of her imagined companion, Khawf, who haunts her every move in an effort to keep her safe. But even with Khawf pressing her to leave, Salama is torn between her loyalty to her country and her conviction to survive. And when she crosses paths with the boy she was supposed to meet one fateful day, she starts to doubt her resolve in leaving home at all. As Long As The Lemon Trees Grow is a powerful love letter to Syria and its people, set amid the Syrian Revolution. ~ Asian – High School
Related: 180+ Asian & Asian American Books For Children & Teenagers
---
Snitchers
by Stephane Dunne
When the little boy she babysits is caught in the crossfire of a drive-by shooting, Nia and her best friends Dontay and Miracle Ruth secretly set out to get him justice. They look up police reports and listen to the conversations of their elders; they try to follow suspects the way Nia's favorite teen detectives might. But the search for truth isn't straightforward, especially when you're somewhere between being kids and adults, and people are afraid to talk. Snitchers is an endearing, heart-wrenching novel about loss, truth, and the reality of violence in communities everywhere. ~ African – High School
Related: The 50 Best Multicultural Young Adult Books of 2021
---
Eternally Yours
by Patrice Caldwell
A girl in a graveyard goes on an unexpected date, a shipwrecked sailor makes a connection on a forbidden island, a piano melody summons a soul mate. Creatures of folktales and legend, of land and sea, of centuries past and life after life, all wrapped into one spellbinding compendium. Eternally Yours is an irresistible paranormal romance anthology filled with tales of the mortal and the monstrous by fifteen of today's bestselling writers, including Kalynn Bayron, Kat Cho, Melissa de la Cruz, Hafsah Faizal, Chloe Gong, Adib Khorram, Akshaya Raman, and others. ~ Diverse – High School
---
Until We Break
by Matthew Dawkins
As the only Black student at her ballet academy, Naomi Morgan knows her feelings of isolation are the price she has to pay in order to win the Youth American Grand Prix, the country's most prestigious dance competition. Nothing else matters. But when Naomi's dance instructor assigns her Odette's variation from Swan Lake, Naomi doesn't think she can dance the part. Her best friend, Jessica, who used to be her sounding board and support died in a freak car accident, and Naomi has been burying her grief by focusing on her dancing. But when an injury steals that refuge, Naomi's mental health deteriorates and she starts to seek answers outside of her carefully constructed reality. Then one night, she meets Saint, a street artist, and he opens up an entirely new world for her. Until We Break is a heartfelt story about grief and finding your place. ~ African – High School
Related: 22 Multicultural Children's Books About Brave Ballerinas
---
The Getaway
by Lamar Giles
Jay is living his best life at the famous Karloff Country resort. Life isn't so great for the rest of the world, and people come here to get away from all that. As things outside get worse, trouble starts seeping into Karloff. First, Jay's friend Connie and her family disappear in the middle of the night and no one will talk about it. Then the richest and most powerful families arrive and aren't leaving. Unknown to the employees, the resort has been selling shares in an end-of-the-world oasis. And in order to deliver the top-notch customer service the wealthy clientele paid for, the employees will be at their total beck and call. But Karloff Country didn't count on Jay and his crew–and just how far they'll go to find out the truth and save themselves. The Getaway is a thrilling dystopian novel that young adults will find hard to put down. ~ African – High School
---
*You can buy any of the books on this site from Amazon USA by clicking on the book titles or covers*
---
---