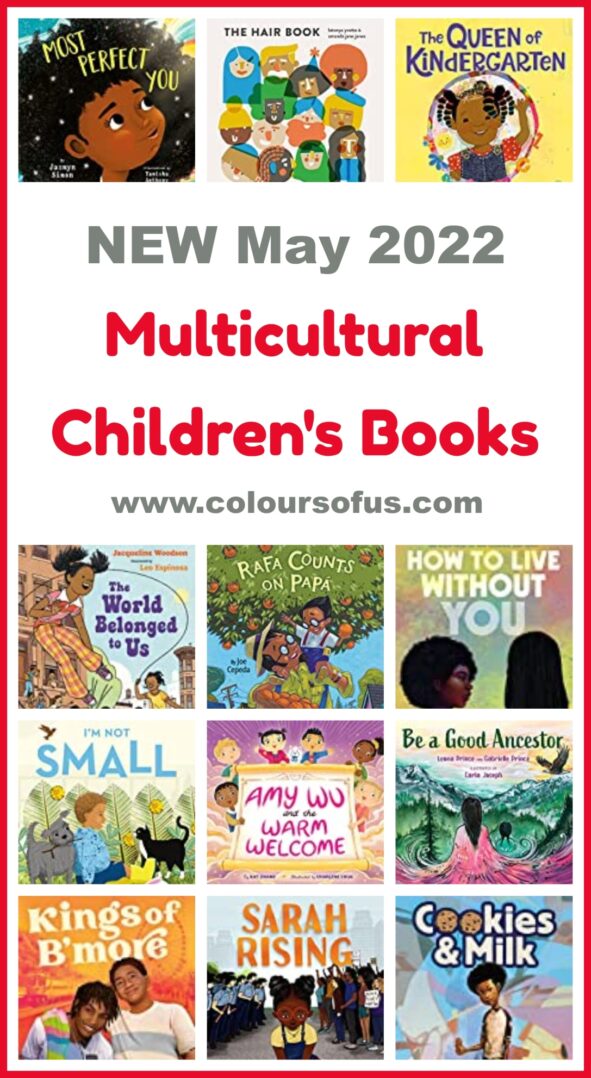 This month's list is long! So many exciting new multicultural children's books for all ages! Our favourites for May are The Hair Book (Babies & Toddlers), The Blur (Preschool), The World Belonged To Us (Elementary School), Swim Team (Middle School), and Inheritance: A Visual Poem (High School). Enjoy browsing!
---
NEW Multicultural Children's Books May 2022
---
Babies & Toddlers
---
The Hair Book
by LaTonya Yvette
"Covered hair, Bun Hair, Party Hair… No matter your hair—YOU are welcome anywhere!" With bold, colourful graphics and poetic rhyme, The Hair Book is a stunning tribute to every kind of hair, perfect for fans of Hair Love. ~ Diverse – Babies & Toddlers
---
---
Preschool
---
I'm Not Small
by Nina Crews
A young boy feels small in a world that is made up of big things. But when he takes a closer look, he discovers that he is big, too. His dog is smaller than he is, and his cat is smaller than his dog. And the teeny-tiny ant crawling through the grass? Even smaller! With playful text and bright illustrations, I'm Not Small will spark conversations about the concept of size, about growing up, about feeling seen, and about observing the world around you. ~ African – Preschool
---
I Love My Teacher!
by Todd Parr
Teachers are amazing! They teach you new things, make you laugh, and help you meet new friends. They always encourage you to do your best. They make the classroom a great place to be! From fostering creativity in the classroom to ensuring all children's needs are met, I Love My Teacher! is an ode to everything teachers contribute to the world. ~ Diverse – Preschool
Related: 12 Multicultural Picture Books about Love
---
The Story of Juneteenth
by Dorena Williamson
What are the origins of America's newest national holiday? With simple, age-appropriate language and colourful illustrations, this board book introduces children to the events of June 19, 1865, when Union General Gordon Granger arrived in Galveston, Texas, with the news that all enslaved people were declared free and the Civil War had ended. Thoroughly researched and historically accurate, The Story of Juneteenth distills a pivotal moment in U.S. history. ~ African – Preschool
Related: 14 Children's Books celebrating Juneteenth
---
The Blur
by Minh Lê
From the very beginning, there was something different about this child… An ultrasonic voice. Fantastically elastic limbs. Super-magnetic powers. But it wasn't until the child took her first steps that she became: THE BLUR! Nothing can stand in her way as she takes the world by storm: always on the move and darting into danger! All too soon, she is zipping through the days, and zooming over the years… From the award-winning creators of Drawn Together comes The Blur, a delightful superhero romp that will pull at the heartstrings of every parent. ~ Asian – Preschool
Related: 30 Multicultural Children's Books featuring Superheroes
---
The Queen of Kindergarten
by Derrick D. Barnes
MJ is more than ready for her first day of kindergarten! With her hair freshly braided and her mom's special tiara on her head, she knows she's going to rock kindergarten. But the tiara isn't just for show—it also reminds her of all the good things she brings to the classroom, stuff like her kindness, friendliness, and impressive soccer skills, too! Like the bestselling companion book The King of Kindergarten, The Queen of Kindergarten is the perfect back-to-school book. ~ African – Preschool
Related: 250 Children's Books Celebrating Black Girls
---
Be a Good Ancestor
by Leona & Gabrielle Prince
Addressing environmental issues, animal welfare, self-respect, and the importance of community, this stunning picture book delivers a universal message in accessible stanzas: Be good to yourself and the world around you. Rooted in Indigenous teachings, Be A Good Ancestor encourages readers of all ages to consider the ways in which they live in connection to the world around them and to think deeply about their behaviors. ~ Diverse – Preschool
Related: 100 Native American Children's Books
---
Most Perfect You
by Jazmyn Simon
After comparing herself to other little girls, Irie confides in her mama that she feels something is wrong with her, that she's not perfect as she is. And so Irie's mama tells the magical story of how Irie was intentionally and wonderfully made. In fact, Irie is made up of all her mother's favourite things: sparkling eyes, a bright smile, and a kind heart. Most Perfect You is a moving love letter to children struggling to accept themselves inside and out—exactly as they are. ~ African – Preschool
Related: 20 Multicultural Children's Books To Help Build Self-Esteem
---
Daddies and Daughters Stick Together
by Aissatou Balde
Diari doesn't mind when Mommy goes into the city for work, because she and her little sister, Fatima, get to spend the whole day with Daddy. A day with Daddy means cooking, learning, dancing, and playing. After all, Daddy knows that with a little imagination, a sense of fun, and a lot of love, every part of a normal day can feel special! Daddies and Daughters Stick Together is a joyful celebration of the love between fathers and daughters. ~ African – Preschool
Related: 60+ Multicultural Children's Books about Fathers
---
Rafa Counts on Papá
by Joe Cepeda
Rafa and his papá love to count and measure together. They know how many branches they climb to their favorite spot, they know how high their dog Euclid can jump, and they know how far they can run. But there's one thing Rafa can't count or measure because it is infinite: the love that he and his papá share. With a subtle nod to introducing concepts, from real objects to the abstract, Rafa Counts On Papá the immeasurable love of this Latinx family. ~ Hispanic – Preschool
Related: Pura Belpré Award Winners 1996 – 2022
---
The Best Bed for Me
by Gaia Cornwall
Mama and Mommy would like Sweet Pea to settle into bed, but it's not quite time. Even though the bed is fluffy, it's not as snuggly as curling up like a pig in the mud, or as spacious as sleeping in the wide ocean like a blue whale. It's not as fun as sleeping high up in a tree like a koala, or hanging upside down like a bat. And it's definitely not as relaxing as sleeping standing up, like an emperor penguin. But after mimicking all the ways different animals rest, this little one concedes that a comfy bed, a soft pillow, and a good-night wish offer the best way to fall asleep after all. The Best Bed for Me is a loving, humorous story for even the most energetic of bedtime listeners. ~ Diverse – Preschool
Related: Top 10 Multicultural Bedtime Stories for Babies & Toddlers
---
Twas the Night Before Pride
by Joanna McClintick
On the night before Pride, families everywhere are preparing to partake. As one family packs snacks and makes signs, an older sibling shares the importance of the march with the newest member of the family. Reflecting on the day, the siblings agree that the best thing about Pride is getting to be yourself. Twas the Night Before Christmas pays homage to the beauty of families of all compositions—and of all-inclusive love. ~ Diverse – Preschool
Related: 75+ Multicultural LGBTQIA Books for Children & Teenagers
---
My Hands Tell a Story
by Kelly Starling Lyons
A little girl, baking bread with her grandmother, becomes transported by the tales her grandmother's hands tell–those that spring from the rose-painted nails, a flower-banded wedding ring, and the way her fingers move and glide. These hands have many tales to tell. But only if you listen. My Hands Tell a Story is a heartwarming picture book that celebrates a special moment between granddaughter and grandmother. ~ African – Preschool
Related: 40+ Multicultural Children's Books about Grandparents
---
---
Elementary School
---
The Juneteenth Story
by Alliah L. Agostini
On June 19, 1865—more than two years after President Lincoln's Emancipation Proclamation—the enslaved people of Texas first learned of their freedom. That day became a day of remembrance and celebration that changed and grew from year to year, eventually becoming an official holiday in the U. S. in 2021. With colourful illustrations and a timeline, The Juneteenth Story is an accessible introduction to this important American holiday. ~ Diverse – Elementary School
Related: 14 Children's Books celebrating Juneteenth
---
The Legend of the Spirit Serpent
by Adaiah Sanford
Gorgeously illustrated The Legend of the Spirit Serpent is a retelling of a traditional Kalinago legend from the Caribbean island of Dominica recounts the story of a huge serpent who once guarded the indigenous people. This book is the winner of the 1st Annual Caribbean Writer's Contest sponsored by Reycraft Books and the Ducreay Foundation. ~ African – Elementary School
Related: 36 Children's Books set in the Caribbean
---
Not So Small
by Pat Zietlow Miller
"A small voice can travel for miles. / Showing kindness. / Hope. / And love." With lyrical text and vibrant illustrations, Not So Small celebrates the many ways people can join together to become something bigger—an unstoppable force. Each and every one of us can use our voices to make a difference — no matter your size! ~ Diverse – Elementary School
Related: 12 Multicultural Children's Books about the Power of Community
---
The World Belonged to Us
by Jacqueline Woodson
Released from school and reveling in their freedom, the kids on one Brooklyn block take advantage of everything summertime has to offer. Freedom from morning till night to go out to meet their friends and make the streets their playground–jumping double Dutch, playing tag and hide-and-seek, building forts, chasing ice cream trucks, and best of all, believing anything is possible. That is, till their moms call them home for dinner. But not to worry–they know there is always tomorrow to do it all over again–because the block belongs to them and they rule their world. With rhythmic text and lively art, The World Belonged To Us celebrates the joy and freedom of summer in the city. ~ Diverse – Elementary School
---
The History of Juneteenth: A History Book for New Readers
by Arlisha Norwood
On June 19, 1865, a Union soldier traveled to Texas to tell the enslaved people who lived there that they were free—that slavery was now illegal in every state. The people danced and sang in celebration of their freedom. Today, we pay tribute to this historical day with a special holiday on June 19 called Juneteenth. The History of Juneteenth is an engaging book that takes kids on an exciting journey through all the events that led up to the first Juneteenth, the day itself, and the impact it had on the future of the U.S. Includes a visual timeline and thought-provoking questions. ~ African – Elementary School
Related: 14 Children's Books celebrating Juneteenth
---
Amy Wu and the Warm Welcome
by Kat Zhang
Amy's class has a new student from China! Amy tries hard to make Lin feel included, but she can't draw him out of his shell. Then she sees Lin chattering happily in Chinese with his family. The gears in her head start to turn, and a plan blossoms. Step one: invite Lin to her dumpling party… ​With a little help from her grandma and a shiny new banner, can Amy give Lin the warmest welcome? Amy Wu and the Warm Welcome is a warmhearted and playfully illustrated follow-up picture book to Amy Wu and the Perfect Bao and Amy Wu and the Patchwork Dragon. ~ Asian – Elementary School
Related: 40+ Multicultural Book Series for Girls & Boys
---
Sarah Rising
by Ty Chapman
Sarah joins her dad at a protest to speak out against police violence against Black people. The protesters are loud, and Sarah gets scared. When she spots a beautiful monarch butterfly and follows it through the crowd, she finds herself inside the no-man's land between the line of police and protesters. In the moments that follow, Sarah is confronted with the cruelty of those who are supposed to protect her and learns what it feels like to protect and be protected. Inspired by the protests of the Minneapolis Uprising after the police killing of George Floyd, Sarah Rising provides a child's-eye view of a protest and offers an opportunity for children to talk about why people take to the streets to protest racial injustice. ~ African – Elementary School
Related: 100 Children's Books to help talk about Racism & Discrimination
---
The Little House of Hope
by Terry Catasús Jennings
When Esperanza and her family arrive in the U.S. from Cuba, they rent a little house, una casita. As the family settles into their new house, they all do their part to make it a home. When other immigrant families need a place to stay, it seems only natural for the family in la casita to help. Together they turn the house into a place where other new immigrants can help one another. The Little House of Hope is an inspiring, semi-autobiographical story of how immigrants can help each other find their footing in a new country. ~ Hispanic – Elementary School
Related: 30 Multicultural Picture Books about Immigration
---
Josey Johnson's Hair and the Holy Spirit
by Esau McCaulley
Josie is spending the day with Dad―getting her hair braided at Monique's Beauty Shop, and picking out a new red dress for Sunday. Because Sunday is Pentecost! In the process, she learns to celebrate the differences she sees all around her as part of God's plan for his creation. Josey Johnson's Hair and the Holy Spirit invites children to join Josey as she learns of God's wonderfully diverse design. ~ African – Elementary School
---
Uncle John's City Garden
by Bernette Ford
Visiting her uncle in the city from her home in the suburbs, L'l Sissy sees how a few packets of seeds, some helping hands, and hard work transform an empty lot in a housing project into a magical place where vegetables grow and family gathers. It's the magic of nature in the heart of the city! Uncle John's City Garden is a loving glimpse at a family's shared passion for farming. L'l Sissy's fascination with measurement, comparison, and estimation introduces children to STEM concepts, and the progress of Uncle John's garden introduces them to the life cycle of plants. ~ African – Elementary School
Related: 21 Multicultural Children's Books: Growing Your Own Food
---
Daddy-Daughter Day
by Pierce Freelon
A daddy and daughter can't let this perfect day go to waste—so what will they do and where will they go? Play hopscotch in the park or build a pillow fort and stay inside? Shoot the perfect alley-oop or host a tea party on the half-court line? Frolic like princesses or find a big tree to climb? If life gives them puddles, they'll jump and splash and play! Brought to life by dynamic illustrations, Daddy-Daughter Day is a joyous celebration of the love between fathers and daughters. ~ African – Elementary School
Related: 60+ Multicultural Children's Books about Fathers
---
Jo Jo Makoons: Fancy Pants
by Dawn Quigley
First grader Jo Jo Makoons knows how to do a lot of things, like how to play jump rope, how to hide her peas in her milk, and how to be helpful in her classroom. But there's one thing Jo Jo doesn't know how to do: be fancy. She has a lot to learn before her Aunt Annie's wedding! Favorite purple unicorn notebook in hand, Jo Jo starts exploring her Ojibwe community to find ways to be fancy. Filled with lots of glitter, raised pinkies, and humorous misunderstandings, Jo Jo Makoons: Fancy Pants is the second book in the Jo Jo Makoons series about a young Ojibwe girl. ~ Diverse – Elementary School
Related: 100 Native American Children's Books
---
Free at Last: A Juneteenth Poem
by Sojourner Kincaid Rolle
"After 300 years of forced bondage; / hands bound, descendants of Africa / picked up their souls—all that they owned— / leaving shackles where they fell on the ground, / headed for the nearest resting place to be found." With deeply emotional, evocative free verse, Free at Last: A Juneteenth Poem is an ode to the strength of Black Americans and a call to remember and honour a holiday whose importance reverberates far beyond the borders of Texas. ~ African – Elementary School
Related: 14 Children's Books celebrating Juneteenth
---
Mae Makes a Way: The True Story of Mae Reeves, Hat & History Maker
by Olugbemisola Rhuday-Perkovich
Mae had a dream to make one-of-a-kind hats. But the path for a Black female designer was unclear, so Mae made a way, leaving her home in the segregated South to study at the Chicago School of Millinery. She went on to become the first Black woman to own a business on South Street. Whether you were Lena Horne, Ella Fitzgerald, Marian Anderson or a lady from the neighbourhood, Mae wanted you to look good and feel special in one of her original hats. Dynamically illustrated Mae Makes Way celebrates iconic fashion designer and civil rights icon Mae Reeves. ~ African – Elementary School
Related: 55 Multicultural Picture Books About Strong Female Role Models
---
Smile Out Loud: 25 Happy Poems
by Joseph Coelho 
This vibrant picture book presents 25 poems from award-winning poet Joseph Coelho, designed to be read aloud to project confidence, conjure happiness, make you laugh or cheer others up. Some are odes, some can be said as personal mantras or just poems full of words that you can't help but smile when you hear them. Smile Out Loud fosters a love of words and the power that comes with the spoken word. ~ Diverse – Elementary School
Related: 40 Multicultural Poetry Books for Children
---
Juneteenth: Our Day of Freedom
by Sharon Dennis Wyeth
On June 19, 1865, two years after the Emancipation Proclamation, Order No. 3 was read in Texas, proclaiming that African Americans were no longer enslaved. People danced, wept tears of joy, and began to plan their new lives. Juneteenth became an annual celebration that is observed with parades, picnics, family gatherings, and reflection on the words of historical figures. Part of the Step 3 History Reader series, Juneteenth: Our Day of Freedom teaches young readers about this important holiday. ~ African – Elementary School
Related: 14 Children's Books celebrating Juneteenth
---
---
Middle School
---
Wildseed Witch
by Marti Dumas
Hasani's post-seventh-grade summer to-do list is pretty simple: get a bigger following for her makeup YouTube channel and figure out how to get her parents back together. What she does NOT expect is that an emotional outburst will spark a latent magical ability in her that attracts the attention of witches and lands her in a fancy charm school. While the other girls have always known they were destined to be witches, Hasani is a Wildseed––a stray witch from a family of non-witches, with no background knowledge, no way to control her magic, and a lot to catch up on. Wildseed Witch is a fun contemporary fantasy novel with an all-BIPOC cast. ~ Diverse – Middle School
---
Who Is Colin Kaepernick? 
by Lakita Wilson
In 2016, NFL quarterback Colin Kaepernick refused to stand for the national anthem as a statement against police brutality and the oppression of people of color in the U.S. After playing professional football for six seasons, that would become Kaepernick's last season in the NFL, but he would go on to become one of the most prominent activists of today. Colin believed that speaking out against racism was far bigger than football. Today, hundreds of athletes — from high schools to professional teams — still kneel during the national anthem. Part of the New York Times Who HQ Now bestselling series, Who Is Colin Kaepernick? tells the inspiring story of the professional football player and activist. ~ African – Middle School
Related: 44 Children's Books About Extraordinary Black Athletes
---
Hope Wins: A Collection of Inspiring Stories for Young Readers
by Tom Angleberger et al.
Where does hope live? In your family? In your community? In your school? In your heart? From a family restaurant to a hot-dog shaped car, from an empty road on a moonlight night to a classroom holiday celebration, Hope Wins is an anthology of personal stories from a diverse group of award-winning authors, that show that hope can live everywhere, even—or especially—during the darkest of times. No matter what happens: Hope wins. ~ Diverse – Middle School
---
Marcus Makes It Big
by Kevin Hart
Marcus's movie, Toothpick vs. the Doom, is a HIT! But the only thing harder than making a movie is making a SECOND one. Marcus needs to come up with another great idea fast. Too bad his film crew (aka friends) are too preoccupied with their MeTube channels to notice. An invite to The Helen Show has Marcus thinking they'll be back on top, but will nerves, unchecked ambition, and a rivalry between friends shut down this show before it even begins? Laugh-out-loud, highly illustrated sequel to Marcus Makes a Movie, Marcus Makes It Big follows a young boy who has big Hollywood dreams. ~ African – Middle School
Related: The 50 Best Multicultural Middle Grade Novels of 2021
---
Pauli Murray: Shouting for the Rights of All People
by Deborah Nelson Linck
Pauli Murray, activist, lawyer, poet, and Episcopal priest, broke records and barriers throughout her life. Friend to Eleanor Roosevelt, colleague to Ruth Bader Ginsburg, and student of Thurgood Marshall, Pauli Murray paved the way for change and elevated those around her in the process. The first , Pauli Murray: Shouting for the Rights of all People celebrates the life of the civil rights icon, including the role of gender identity in her own journey. ~ African – Middle School
Related: 80 Picture Book Biographies About Bold Black Women & Girls
---
Amari and the Great Game (Supernatural Investigations, 2)
by B.B. Alston
After finding her brother and saving the entire supernatural world, Amari Peters is convinced her first full summer as a Junior Agent will be a breeze. But between the fearsome new Head Minister's strict anti-magician agenda, fierce Junior Agent rivalries, and her brother Quinton's curse steadily worsening, Amari's plate is full. So when the secretive League of Magicians offers her a chance to stand up for magiciankind as its new leader, she declines.  But her refusal allows someone else to step forward, a magician with dangerous plans for the League, and sparks the Great Game, a competition to decide who will become the Night Brothers' successor and determine the future of magiciankind. Amari and the Great Game is the second book in the bestselling Supernatural Investigations trilogy. ~ African – Middle School
Also available: Amari and the Night Brothers
---
Swim Team
by Johnnie Christmas
Bree can't wait for her first day at her new middle school, Enith Brigitha, home to the Mighty Manatees—until she's stuck with the only elective that fits her schedule, the dreaded Swim 101. The thought of swimming makes Bree more than a little queasy, yet she's forced to dive headfirst into one of her greatest fears. Lucky for her, Etta, an elderly occupant of her apartment building and former swim team captain, is willing to help. With Etta's training and a lot of hard work, Bree suddenly finds her swim-crazed community counting on her to turn the school's failing team around. But that's easier said than done, especially when their rival, the prestigious Holyoke Prep, has everything they need to leave the Mighty Manatees in their wake. Can Bree defy the odds and guide her team to a state championship? Swim Team is a splashy, contemporary middle grade graphic novel from bestselling comics creator Johnnie Christmas. ~ African – Middle School
Related: 80+ Multicultural Graphic Novels for Children & Teenagers
---
Cookies & Milk
by Shawn Amos
Eleven-year-old Ellis Johnson has the summertime blues. He dreamed of spending the summer of 1976 hanging out with friends, listening to music, and playing his harmonica. Instead, he'll be sleeping on a lumpy pullout in Dad's sad little post-divorce bungalow and helping bring Dad's latest far-fetched, sure-to-fail idea to life: opening the world's first chocolate chip cookie store. They have six weeks to perfect their recipe, get a ramshackle A-frame on Hollywood's Sunset Boulevard into tip-top shape, and bring in customers. But of course, nothing is as easy as Dad makes it sound, even with Grandma along for the ride. Along the way, Ellis discovers a family mystery he is determined to solve, the power of community, and new faith in himself. Packed with humor, heart, and fun illustrations, Cookies & Milk is a semi-autobiographical debut novel about self-discovery, unconditional love, and belonging. ~ African – Middle School
Related: The 50 Best Multicultural Middle Grade Novels of 2021
---
The Marvellers
by Dhonielle Clayton
11-year-old Ella Durand is the first Conjuror to attend the Arcanum Training Institute, a magic school in the clouds where Marvellers from around the world practice their cultural arts. But some Marvellers deem her magic "bad and unnatural." Ella befriends her elixirs teacher, Masterji Thakur, and fellow misfits Brigit and Jason. When dangerous criminal Ace of Anarchy escapes prison, supposedly with a Conjuror's aid, tensions grow in the Marvellian world and Ella becomes the target of suspicion. Worse, Masterji Thakur mysteriously disappears while away on a research trip. With the help of her friends and her own growing powers, Ella must find a way to clear her family's name and track down her mentor before it's too late. First in a new series, The Marvellers is a thrilling fantasy adventure with fantastical twists. ~ African – Middle School
---
Let the Monster Out
by Chad Lucas
One of the few Black kids in Langille, Bones Malone feels like he doesn't fit in. And now his baseball team (the one place where he really feels like he shines) just lost their first game. To make matters worse, things in town are getting weird. His mom is totally spaced out, almost like a zombie, and he and his brothers have the same scary dream. Kyle Specks thinks he might be neurodivergent, but he hasn't gotten an official diagnosis yet. His parents try to protect him, but Kyle knows they can't do that forever, especially as things in Langille are getting stranger and stranger. When Kyle and Bones find a mysterious scientist's journal that might hold answers about what's going on, they are faced with seemingly impossible situations, a shady corporation, and their own worst nightmares. Let The Monsters Out is an equal parts heart-pounding and heartfelt middle-grade mystery about facing –and accepting– your fears. ~ African – Middle School
Related: 150 Children's Books Celebrating Black Boys
---
Caprice
by Coe Booth
This should be an exciting time for Caprice. She has been offered a place at the school of her dreams, where she's just had a fantastic summer. But this great opportunity coincides with a lot of internal doubt and the disturbing news that her long-estranged grandmother has fallen ill and may be near death. As Caprice tries to figure out her future, she is pulled back toward her past, and the abuse she endured from her uncle when she was little — an abuse she's never told anyone about. With extreme sensitivity and honesty, Caprice has written a painful but ultimately healing novel about finding support from your parents and friends, articulating your truth, and choosing your own path. ~ African – Middle School
Related: The 50 Best Multicultural Middle Grade Books of 2020
---
---
High School
---
How To Live Without You
by Sarah Everett
When her sister Rose disappeared, 17-year-old Emmy lost a part of herself. Everyone else seems convinced she ran away and will reappear when she's ready, but that doesn't make sense for the Rose Emmy knew: effervescent, caring, and strong-willed. So Emmy returns to their Ohio hometown for a summer, determined to uncover clues that can lead her to Rose. But what Emmy finds is a string of secrets and lies that she never thought possible, casting the person she thought she knew best in a whole new light. Reeling with confusion, Emmy decides to step into Rose's life. She reconnects with their childhood best friend and follows in Rose's last known footsteps with heart-wrenching consequences. How To Live Without You is a heart-wrenching coming-of-age story about family, grief, and second chances.  ~ African – High School
---
Ballad & Dagger (Outlaw Saints, 1)
by Daniel José Older
Many years ago, Mateo Matisse's island homeland disappeared into the sea. The survivors escaped to Brooklyn, New York. While the rest of his tight-knit community dreams of someday finding a way back home, Mateo–now a high school junior and piano prodigy– is focused on getting the attention of locally-grown musical legend Gerval. Mateo finally gets his chance on the night of the Grand Fete, an annual party celebrating the blended culture of pirates, Cuban Santeros, and Sephardic Jews that created San Madrigal all those centuries ago. But the evil that sank their island has finally caught up with them, and on the night of the celebration, Mateo's life is forever changed when he witnesses a brutal murder and is thrust into an ancient battle that spans years and oceans. The first novel in the Outlaw Saints duology, Ballad & Dagger transports readers to a world where magic, myth, and gods reign over the streets of Brooklyn. ~ African – High School
More 'Rick Riordan Presents' titles: Sal and Gabi Break the Universe // DragonPearl // Tristan Strong Punches a Hole in the Sky // Paola Santiago and the River of Tears // The Last Fallen Star
---
Only on the Weekends
by Dean Atta
Fifteen-year-old Mack is a hopeless romantic. He has liked Karim for as long as he can remember, and is ecstatic when Karim becomes his boyfriend—it feels like love. But when Mack's dad gets a job on a film in Scotland, Mack has to move, and soon he discovers how painful love can be. It's horrible being so far away from Karim, but the worst part is that Karim doesn't make the effort to visit. Then, when Mack meets actor Finlay on a film set, he experiences something powerful, a feeling like love at first sight. How long until he tells Karim—and when will his old life and new life collide? Written in verse, Only On Weekends is a beautifully nuanced story about the exquisite highs and lows of first love and self-discovery. ~ African – High School
---
All Signs Point to Yes
by Cam Montgomery et al.
A haunted Aquarius finds love behind the veil. An ambitious Aries will do anything to stay in the spotlight. A foodie Taurus discovers the best eats in town (with a side of romance). A witchy Cancer stumbles into a curious meet-cute. Whether it's romantic, platonic, familial, or something else you can't quite define, love is the thing that connects us. Straight from the hearts of thirteen multicultural YA authors, All Signs Point to Yes takes readers on a journey from their own backyard to the world beyond the living with thirteen star-studded stories of love and life. ~ Diverse – High School
---
Break This House
by Candice Iloh
Yaminah Okar left Obsidian and the wreckage of her family years ago. She and her father have made lives for themselves in Brooklyn. She thinks she's moved on to bigger and better things. She thinks she's finally left behind that city she would rather forget. But when a Facebook message about her estranged mother pierces Yaminah's new bubble, memories of everything that happened before her parents' divorce come roaring back. Now, Yaminah must finally reckon with the truth about her mother and the growing collapse of a place she once called home. Break This House is a heartfelt novel about a teenager reckoning with her family's—and her home town's—secrets. ~ African – High School
---
Burn Down, Rise Up
by Vincent Tirado
For over a year, the Bronx has been plagued by sudden disappearances that no one can explain. Sixteen-year-old Raquel does her best to ignore it until her crush Charlize's cousin goes missing. Raquel and Charlize team up to investigate and soon discover that everything is tied to a terrifying urban legend called the Echo Game. The game is rumored to trap people in a sinister world underneath the city, and the rules are based on a particularly dark chapter in New York's past. If the girls want to save their home and everyone they love, they will have to play the game and destroy the evil at its heart―or die trying. Burn Down, Rise Up is a thrilling queer action novel that readers will find hard to put down. ~ African – High School
Related: 75+ Multicultural LGBTQIA Books for Children & Teenagers
---
Rising Troublemaker: A Fear-Fighter Manual for Teens
by Luvvie Ajayi Jones
The world can feel like a dumpster fire, with endless things to be afraid of. It can make you feel powerless to ask for what you need, use your voice, and show up truly as your whole self. And often people make you feel like your way of showing up is too much. Be too much, and use it for good! That is what it means to be a troublemaker. Rising Troublemaker gives young people the permission they might need to be the troublemakers they are, or wish to be. In this young readers edition of her bestseller Professional Troublemaker, Luvvie Ajayi Jones uses her honesty and humour to inspire teens to be their bravest, boldest, truest selves, in order to create a world they would be proud to live in. ~ Diverse – High School
---
Confessions of an Alleged Good Girl
by Joya Goffney
Monique is a preacher's daughter who detests the impossible rules of her religion. Everyone expects her to wait until marriage, so she has no one to turn to when she discovers that she physically can't have sex. After two years of trying and failing, her boyfriend breaks up with her. To win him back, Monique teams up with straight-laced church girl Sasha—who is surprisingly knowledgeable about Monique's condition—as well as Reggie, the misunderstood bad boy who always makes a ruckus at church, and together they embark upon a top-secret search for the cure. While on their quest, Monique discovers the value of a true friend and the wonders of a love that accepts her for who she is. Despite everyone's opinions about her virtue, she learns to live for herself, inspiring us all to reclaim our bodies and unapologetically love ourselves. Confessions of an Alleged Good Girl is a heartfelt yet funny novel about friendship, love and self-acceptance. ~ African – High School
---
Inheritance: A Visual Poem
by Elizabeth Acevedo
"They tell me to "fix" my hair. / And by fix, they mean straighten, they mean whiten; / but how do you fix this shipwrecked / history of hair?" In her most famous spoken-word poem, author of the Pura Belpré-winning novel-in-verse The Poet X Elizabeth Acevedo embraces all the complexities of Black hair and Afro-Latinidad—the history, pain, pride, and powerful love of that inheritance. Paired with full-colour illustrations, Inheritance: A Visual Poem can now be read in a vibrant package, making it the ideal gift, treasure, or inspiration for readers of any age. ~ African – High School
---
Kings of B'more
by R. Eric Thomas
With junior year starting in the fall, Harrison feels like he's on the precipice of, well, everything. With standardized testing, college, and the terrifying unknowns and looming pressures of adulthood, he is grateful that to have his best friend, Linus, by his side. But then Linus delivers devastating news: He's moving out of state at the end of the week. If they won't be having all the life-expanding experiences they thought they would, Harrison will squeeze them all into their last day together. They end up on a mini road trip, their first Pride, and a rooftop dance party, all while keeping their respective parents, who track them on a family location app, off their trail. Harrison and Linus make a pact to do all the things—big and small—they've been too scared to do. But nothing feels scarier than saying goodbye to someone you love. Kings of B'more is a charming and hilarious debut novel about two Black queer friends on an epic journey through Baltimore. ~ African – High School
Related: 75+ Multicultural LGBTQIA Books for Children & Teenagers
---
Perfect Score (Hunt A Killer Original Novel)
by A.M. Ellis
Aspiring PI Jolene Kelley is skipping class at her fancy new private school, North Shore Prep, when she witnesses her beloved guidance counselor fall in front of an oncoming L train. The police call Mr. Medina's death a tragic accident, but Jo knows it was murder. With help from her friends Sabrina and Frankie — and the inside scoop from her public-defender parents and her mentor at the state attorney's office — Jo opens up her own investigation. She uncovers a scandal brewing at North Shore Prep that Mr. Medina had found out about. Jo has a slew of suspects, including administrators, students, parents, and even local politicians. Can she figure out which one is the killer before she becomes their next victim? Part of the Hunt A Killer series, Perfect Score is a thrilling YA mystery novel based on the bestselling subscription game. ~ African – High School
---
The Gilded Ones #2: The Merciless Ones
by Namina Forna
It's been six months since Deka freed the goddesses in the ancient kingdom of Otera and discovered who she really is… but war is waging across the kingdom, and the real battle has only just begun. For there is a dark force growing in Otera that Deka and her army must stop. Yet hidden secrets threaten to destroy everything Deka has known. And with her own gifts changing, Deka must discover if she holds the key to saving Otera… or if she might be its greatest threat. The Merciless Ones is the much anticipated second installment of the epic fantasy series about a girl with the power to remake her world—or destroy it. ~ African – High School
Also available: The Gilded Ones
---
Unequal: A Story of America
by M.E. Dyson & M. Fayreau
The true story of racial inequality—and resistance to it—is the prologue to our present. You can see it in where we live, where we go to school, where we work, in our laws, and in our leadership. Unequal presents a gripping account of the struggles that shaped America and the insidiousness of racism, and demonstrates how inequality persists. As listeners meet some of the many African American people who dared to fight for a more equal future, they will also discover a framework for addressing racial injustice in their own lives. Unequal: A Story of America delivers an urgent, enlightening account of racial inequality in the U.S. ~ African – High School
---
Café Con Lychee
by Emery Lee
Theo Mori and Gabriel Moreno have always been at odds. Their parents own rival businesses—an Asian American café and a Puerto Rican bakery—and Gabi's lack of coordination has cost their soccer team too many games to count. Stuck in the closet and scared to pursue his own dreams, Gabi sees his parents' shop as his future. Stuck under the weight of his parents' expectations, Theo's best shot at leaving Vermont means first ensuring his parents' livelihood is secure. So when a new fusion café threatens both shops, Theo and Gabi realize an unfortunate truth—they can only achieve their goals by working together to cook up an underground bakery operation and win back their customers. But can they put aside their differences long enough to save their parents' shops or will the new feelings between them boil over? Café Con Lychee is a delectable queer rom-com that's brimming with zest and a sprinkle of sweetness. ~ Diverse – High School
Related: 75+ Multicultural LGBTQIA Books for Children & Teenagers
---
Love Radio
by Ebony LaDelle
Prince Jones is the guy with all the answers—or so it seems. After all, at 17, he has his own segment on Detroit's popular hip-hop show, Love Radio, where he dishes out advice to the brokenhearted. Prince has always dreamed of becoming a DJ and falling in love. But being the main caretaker for his mother, who has multiple sclerosis, and his little brother means his dreams will stay just that. Until he meets Dani Ford. She's focused on her plan to ace senior year, score a scholarship, and move to New York City to become a famous author. When the romantic DJ meets the ambitious writer, sparks fly. Prince is smitten, but Dani's not looking to get derailed. She gives Prince just three dates to convince her that he's worth falling for. Love Radio is a witty and effortless romance novel teens will find unputdownable. ~ African – High School
---
Deep in Providence
by Riss M. Neilson
For best friends Miliani, Inez, Natalie and Jasmine, Providence, Rhode Island has a magic of its own. From the bodegas and late-night food trucks on Broad Street to The Hill that watches over the city, every corner of Providence glows with memories of them practicing spells, mixing up potions and doing séances with the help of the magic Miliani's Filipino grandfather taught her. But when Jasmine is killed by a drunk driver, the friends are haunted by grief…and Jasmine's lingering spirit. Determined to bring her back, the friends band together, testing the limits of their magic and everything they know about life, death, and each other. Thrilling and absorbing, Deep in Providence is a story of profound yearning, and what happens when three teen girls are finally given the power to go after what they want. ~ Diverse – High School
Related: 40 Filipino American Books for Children & Teenagers
---
*You can buy any of the books on this site from Amazon USA by clicking on the book titles or covers*
---
---