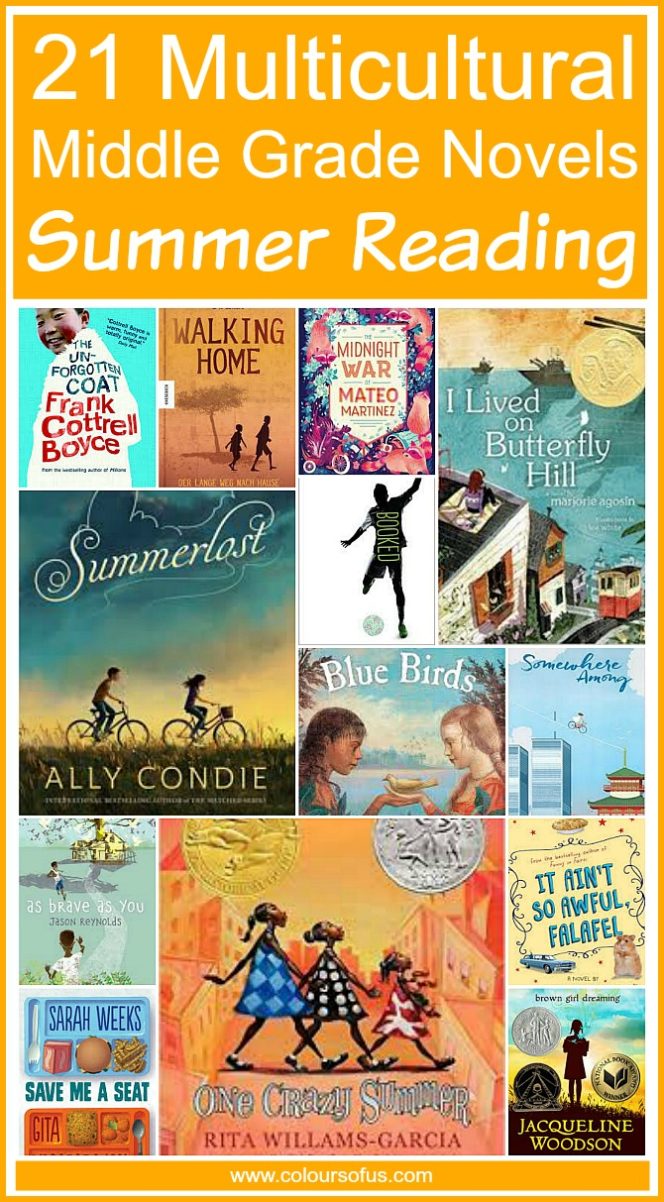 Summer is around the corner! Well, at least in the northern hemisphere…. Time to stock up on summer reads for your middle graders! There are some wonderful new releases, my favourite two being I Lived on Butterfly Hill and Listen, Slowly. In this list I have included mostly contemporary fiction but also some historical fiction.
Multicultural Middle Grade Novels for Summer Reading
---
African & African American
---
As Brave As You
by Jason Reynolds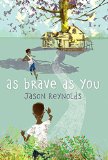 11-year-old Genie and his older brother Ernie are leaving Brooklyn for the very first time to spend the summer with their grandparents in rural Virginia. It is a time full of surprises for Genie and learning about himself and his family: From finding out that his grandfather is blind to discovering his secret room to learning that bravery can mean different things. Just published this month, As Brave As You Are is a thoughtful and gentle middle grade novel by Coretta Scott King/Johnson Steptoe Award-winner Jason Reynolds (When I Was the Greatest).
---
Brown Girl Dreaming
by Jacqueline Woodson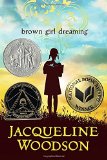 Brown Girl Dreaming is a deeply personal and touching account of the author's childhood as an African American girl in the 1960's and 1970's. Growing up in South Carolina and New York, she becomes increasingly aware of the Civil Rights Movement. In poetic language full of imagery this award-winning book gives a glimpse into a child's soul and her journey of self-discovery.
---
Walking Home
by Eric Walters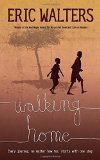 13-year-old Muchoki and his little sister Jata have lost almost everything: Political violence has destroyed their Kenyan village and killed their father. Now living in an overcrowded refugee camp with their ailing mother, the siblings are faced with hunger and fears about the future. Driven by both hope and desperation, Muchoki and Jata set off on a brave, seemingly impossible  journey, walking hundreds of kilometers to find their last remaining family. Walking Home is an inspiring and moving story about loss and forgiveness, perseverance and hope.
---
Booked
by Kwame Alexander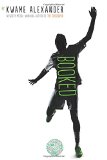 "Like lightning / you strike /fast and free / legs zoom / down field / eyes fixed / on the checkered ball / on the goal / ten yards to go / can't nobody stop you…" In this follow-up to award-winning The Crossover, twelve-year-old Nick struggles with problems at home, is faced with a bully, and tries to impress the girl of his dreams. With the help of his best friend and inspiring books given to him by a rapping librarian, Nicky learns about the power of words and how to stand up for himself. Booked is an exciting and heartfelt novel-in-verse about soccer, family, love and friendship.
---
One Crazy Summer
by Rita Williams-Garcia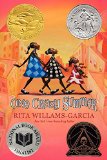 One Crazy Summer is the first book of Williams-Garcia's award-winning trilogy about three resilient young sisters in the late 60's. Delphine, Vonetta, and Fern travel to Oakland in 1968 to spend the summer with their mother who abandoned them seven years earlier. They receive a cold welcome from their mother, a dedicated poet and printer, and are being send to the Black Panther's day center every day.  This heartfelt, funny and thought-provoking novel addresses two difficult subjects: The controversial Black Panther Party, and a mother who leaves her children behind. There is no conclusion (which would have been unrealistic) but there is growth and better understanding in the end.
The other books in the trilogy: P.S. Be Eleven // Gone Crazy in Alabama
---
Asian & Asian American
---
It Ain't So Awful, Falafel
by Firoozeh Dumas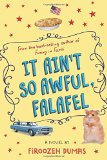 Another fantastic brand new release! In times of the anti-Iran sentiments of the 1970s, fitting in has become even more difficult for brainy loner Zomorod Yousefzadeh. Her family has just moved again, this time to Newport Beach, California, and she is determined to fit in, even changing her name to all-American Cindy. It Ain't So Awful, Falafel is a moving yet lighthearted middle grade novel from the author of best-selling Funny in Farsi.
---
Listen, Slowly
by Thanhha Lai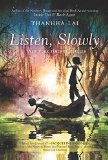 Instead of spending her holidays at the beach, Californian girl Mai has to accompany her grandmother to Vietnam. Her parents are hoping that the trip will connect their out-of-touch daughter with her roots, but Mai struggles with the foreign country and its culture. Bestselling Listen, Slowly is an irresistible and poignant story about the true meaning of home, culture, family and friends. The paperback edition includes a letter from the author, a Vietnamese glossary and a pronunciation guide.
---
Save Me a Seat
by Gita Varadarajan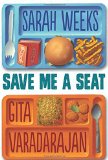 Save Me A Seat is told from the points of view of Ravi, who recently arrived in the US from India, and Joe, whose best friend has just moved away. Both boys attend Fifth Grade at the same school and – each in their own way – struggle to acclimatise to the new situation. Over the course of a single crazy week, they find out that they have more in common than they thought: Dillon Samreen, the school's biggest bully. Together Ravi and Joe try to take control of their lives. Released earlier this month, this is an authentic middle grade novel about fitting in and staying true to yourself.
---
The Land of Forgotten Girls
by Erin Entrada Kelly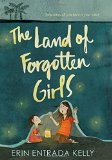 Abandoned by their father, sisters Soledad and Ming from the Philippines live in Louisiana with their evil stepmother. All they have is the stories their deceased mother used to tell them about the travels of her magical sister. The stories give the sisters  hope, but for little Ming they also blur the lines between fact and fiction. Sol needs to find a way to pull her sister back into reality. Mixing fantasy and realism, The Land of Forgotten Girls is an enchanting middle grade novel about sisterhood, hope and the power of imagination.
---
Somewhere Among
by Annie Donwerth-Chikamatsu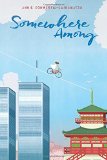 11-year-old Ema is looking forward to the arrival of her baby sibling. Finally someone who will understand how it feels to be half American and half Japanese. But spending the summer with her grandparents in Japan is difficult for Ema: Her harsh grandmother, her mother's tricky pregnancy, and then their stay is extended and she must attend a new school, once again not fitting in. When the tragedy of 9/11 strikes an ocean away, and her grandfather falls ill, Ema feels more helpless than ever, and learns about the tender side and the strength of her grandmother. Entirely written in free-verse, Somewhere Among is a heartfelt debut middle grade novel about family, loneliness and hope.
---
Summerlost
by Allie Condie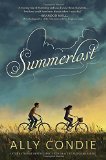 After her father and younger brother were killed in accident, Cedar and what's left of her family are spending the summer in Iron Creek. The Asian American girl befriends local boy Leo who introduces her to the renowned Summerlost theatre festival. Cedar gets a job at the festival and soon finds herself surrounded by mysteries: That of a deceased Hollywood actress haunting the halls of Summerlost, and that of the strange gifts Cedar keeps receiving. Summerlost is a tender and touching middle grade novel about processing loss and finding friendship.
---
Hispanic & Hispanic American
---
I Lived on Butterfly Hill
by Marjorie Agosin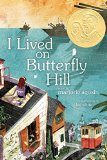 11-year-old Celeste lives a peaceful life among family, friends and neighbours in the idyllic seaside town of Valparaiso, Chile. But her world is turned upside down when one day warships arrive, and class mates start disappearing without an explanation. Celeste doesn't quite understand but she knows that no one is safe anymore. Celeste's parents have to go into hiding, and send Celeste to America to protect her. Based on true events during Pinochet's dictatorship I Lived on Butterfly Hill is a heart-rending historical fiction novel about exile and reunification, loss and hope.
---
The Midnight War of Mateo Martinez
by Robin Yardi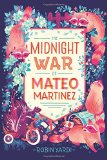 "'Nobody believed me when I said two skunks stole my old trike. But I'd seen those stinkers take it. Swear.' When Fourth Grader Mateo Martinez insists that two talking skunks stole his old trike, his family believes he was only dreaming, as he also constantly dreams of being a medieval knight. But that's not all that's difficult in Mateo's life: He has to deal with bullies at school, with Johnny not being his best friend anymore and with developing his new friendship with Indian American Ashwin. And above all, he struggles with his Mexican American identity. The Midnight War of Mateo Martinez is a funny and action-packed middle grade novel with a touch of fantasy, a story about growing up and letting go.
---
Look Both Ways in the Barrio Blanco
by Judith Robbins Rose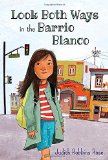 Daughter of undocumented Mexican immigrants, Jacinta Juarez doesn't know much about the world outside her barrio. When a well-known news anchorwoman becomes her mentor after reporting on her youth center, Jacinta finds herself caught between two cultures. She want to embrace a better future but also longs for the comfort of her family and the barrio. When her family is torn apart, Jacinta needs to find her own strength to pick up the pieces. Look Both Ways in the Barrio Blanco is a charming and authentic coming of age story, told with humour and sensitivity.
---
Caminar
by Skila Brown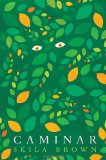 Set in 1981 during Guatemala's Civil War, this is the story of a young boy who has to flee when soldiers invade his village. Separated from his mother, Carlos joins a band of guerillas and tries to make his way to his grandmother's mountain village. Written entirely in free-verse, Caminar is a gripping and moving story of a young boy's loss, survival and growth,
---
Tortilla Sun
by Jennifer Cervantes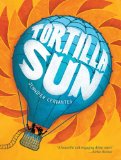 Initially 12-year-old Lizzy is not keen on spending the summer with her grandmother in a remote village in New Mexico. But soon she enjoys her loving Nana's company and the enchanted atmosphere of a village frozen in time. Lizzy also starts to  uncover the mystery surrounding her father who died before she was born. Tortilla Sun is a gentle story about family, friendship and dealing with the past.
---
Diverse
---
The Absolutely True Diary of a Part-Time Indian
by Sherman Alexie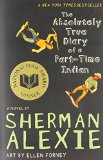 Junior, an aspiring cartoonist, leaves his school on the Spokane Indian Reservation to attend an all-white farm town school. Based on the author's own experiences, The Absolute True Diary of a Part-time Indian is a touching and funny middle grade novel about the contemporary adolescence of a Native American boy. Illustrated with poignant cartoon-style drawings.
---
Counting by 7s
by Holly Goldberg Sloan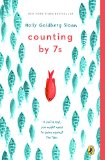 12-year-old Willow Chance is obsessed with nature, diagnosing medical conditions, and counting by 7s. Struggling to connect with anyone other than her adoptive parents, she leads a quietly happy life, until both her parents die in an accident, leaving her alone in a confusing world. But Willow manages to push through her grief and find a substitute family. With a multicultural cast (Willow describes herself as a 'person of colour", her new family is of mixed Vietnamese, African American, and Mexican heritage), bestselling Counting by 7s is a moving middle grade novel about loss, resilience and the true meaning of family.
---
The Unforgotten Coat
by Frank Cottrell Boyce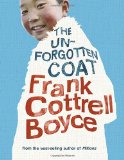 Written in the form of a notebook, The Unforgotten Coat chronicles the events of Julie's sixth-grade year many years ago. Two Mongolian brothers inexplicably appear one morning in her class in Liverpool, England. Chingis, the older brother, proclaims Julie as their "Good Guide" – a nomadic tradition of welcoming strangers to a new land -, and Julie must somehow navigate them through soccer, school uniforms, and British slang, whilst dealing with her own typical tween issues. A unique, moving and sometimes funny middle grade novel about immigration and two brothers trying to survive.
---
Salt
by Helen Frost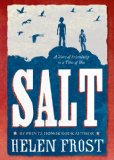 Salt is a compelling middle grade novel about the friendship between children of settlers and a Native American tribe. In 1812 Anikwa and James spend their days fishing, trapping, and exploring the forests together. When tensions rise between the traders and the tribe, the two 12-year-olds face the heartbreaking decision where their deepest loyalties lie.
---
Blue Birds
by Caroline Starr Rose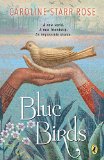 Another one about a friendship between children of settlers and native children, this time with girls as main characters . With rich historical detail, Blue Birds tells the story of two girls from two very different worlds: Alis belongs to a family of settlers from England, and Kimi to a native family of the Roanoke tribe. Despite the tensions between the settlers and the Native people, the two girls form an impossible friendship and risk their lives for one another.
---
*You can buy any of the books on this site from Amazon USA, CAN or UK by clicking on the book titles or covers*
---
More Multicultural Books for Middle School
---

---