Asian Multicultural Children's Books – Elementary School
Multicultural Children's Books for ages 5 to 10, featuring Asian or Asian American children and families

---
Mama's Saris
by Pooja Makhijani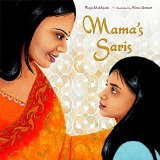 On her 7th birthday a young girl finally gets to wear one of her mother's saris. Feeling very grown-up and beautiful, she is overjoyed to look just like her mother on her special day. The lush, detailed acrylic paintings complement the simple storyline. Mama's Saris is a sweet book about growing up, family relationships and traditions. Includes a glossary of Hindi words.
---
My Name Is Yoon
by Helen Recorvits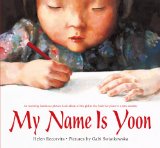 Recently arrived from Korea, Yoon's father wants to teach her how to write her name in English. Yoon doesn't like how alone the letters of her name stand in English, which is just how she feels in America. After trying out several new names she comes to accept the different writing, knowing that her name will always mean "shining wisdom". Award-winning My name is Yoon is a heartfelt story about a little girl finding her place in a new country, complemented by rich, almost surrealistic paintings.
From the same series: Yoon and the Jade Bracelet // Yoon and the Christmas Mitten
More books about immigration: 30 Multicultural Children's Books about Immigration
---
Katie Woo Loves School
by Fran Manushkin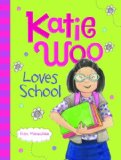 For Katie Woo, school is just one big adventure after another. Her teacher, Miss Winkle, makes every day special, from taking the class on fun field trips to giving them exciting special projects. Katie Woo Loves School is a compilation of four early chapter books from the Katie Woo series: Make-Believe Class // Katie Finds a Job // Who Needs Glasses? // Moo, Katie Woo!
---
Goldfish and Chrysanthemums
by Andrea Cheng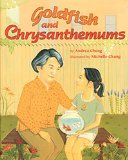 When Nancy sees how saddened her grandmother is by the news of her childhood home being torn down, she somes up with a beautiful idea: She recreates grandmother's childhood garden. Goldfish and Chrysanthemums is a gentle story about strong intergenerational family bonds. The rich colours of the oil paintings give an added sense of warmth.
---
Malala Yousafzai: Warrior with Words
by Karen Leggett Abouraya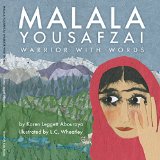 "One child, one teacher, one pen and one book can change the world". Warrior with Words tells the inspring story of a brave Pakistani girl who stands up for every child's right to education. On her 16th birthday – nine month after she was shot by Taliban gunman – Malala Youzafzai spoke at the United Nations. Beautifully illustrated, this is an accessible and empowering book that teaches children about terrorism, courage and perseverance. Every child should read Malala's story!
More books about Pakistan: 15 Children's Books set in Pakistan
---
The Year of the Book
by Andrea Cheng
Part of the Anna Wong series, The Year of the Book is an early chapter book about the ups and downs of friendships. 4th grader Anna Wang doesn't know where she fits in, since her best friend Laura now spends more time with other girls. Anna finds comfort in her books but also realises that they cannot substitute friends. She learns what it takes to make friends and what it means to be one.
From the same series: The Year of the Baby // The Year of the Fortune Cookie // The Year of the Three Sisters
---
Ruby Lu, Brave and True
by Lenore Look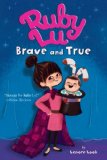 Ruby Lu loves being Ruby Lu! Well, most of the time… for example when she is the star of her own backyard magic show, gives talks at assembly or rides the bus all the way to Chinatown. But she finds it hard to be Ruby Lu when she has to go to Chinese school or when her little brother gives her hassles. Ruby Lu Brave and True is the first of a series of early chapter books about the adventures of a energetic young Asian American girl.
From the same series: Ruby Lu, Empress of Everything // Ruby Lu, Star of the Show
---
The Magic Brush
by Kat Yeh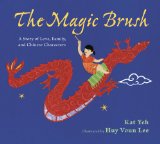 The Magic Brush is a family story, a magical adventure, and an introduction to Chinese characters all at once. A grandfather teaches a young girl Chinese character drawing by incorpororating the characters into fantasy stories. When he passes away, Jasmine continues the magic with her baby brother. Beautiful traditional cut-paper illustrations match the heartwarming storyline.
---
Apple Pie Fourth of July
by Janet S. Wong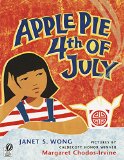 A young Asian American girl struggles with the fact that her parents want to sell Chinese food on the 4th of July. She is convinced that nobody will want to eat Chinese food on an all-American holiday but learns a surprising lesson. Apple Pie 4th of July is a simple and charming story about cultural differences and a child's fears of not fitting in.
---
Here I Am
by Patti Kim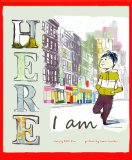 Newly arrived in America, a young boy is overwhelmed by the lights and noise of a busy city. He finds comfort in a red seed he brought from his faraway home country. When he loses the seed, the search for it eventually leads him to new friendship. Without words and in expressive cartoon style, Here I am depicts the confusion and sadness of an uprooted child. I can only recommend this meaningful book about loss, acceptance and growth.
More books about immigration: 30 Multicultural Children's Books about Immigration
---
Turtle Bay
by Saviour Pirotta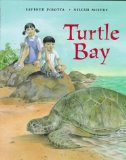 Little Taro is fascinated by a seemingly odd old man who is always sweeping the sand with a broom and waiting. When the old man reveals that he is preparing for the arrival of sea turtles, little Taro and his sister help him. Based on a true story, Turtle Bay is a quietly beautiful book that teaches not only about sea turtles, but also about friendship and empathy.

---
Grandfather Tang's Story
by Ann Tompert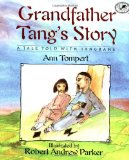 Drawing on the Chinese tradition of telling a story with tangrams, Grandfather Tang's Story recounts the tale of two competitive foxes. Whenever a new character is introduced the tangram pieces are rearranged to reflect the change. A wonderfully warm and interactive book with whimsical pen-and-watercolour illustrations.
*You can buy any of the books on this site from Amazon USA, CAN or UK by clicking on the book titles or covers*
---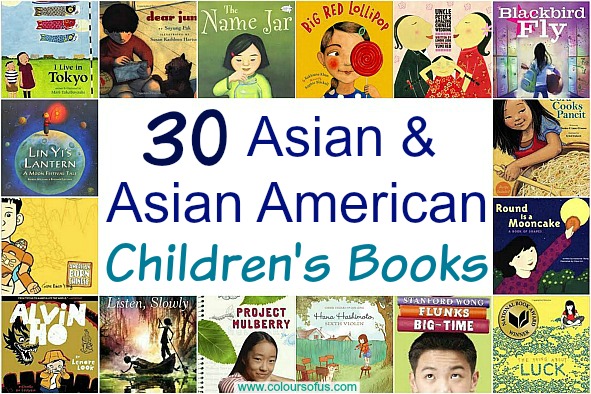 ---
More books with Asian or Asian American characters:
---
---