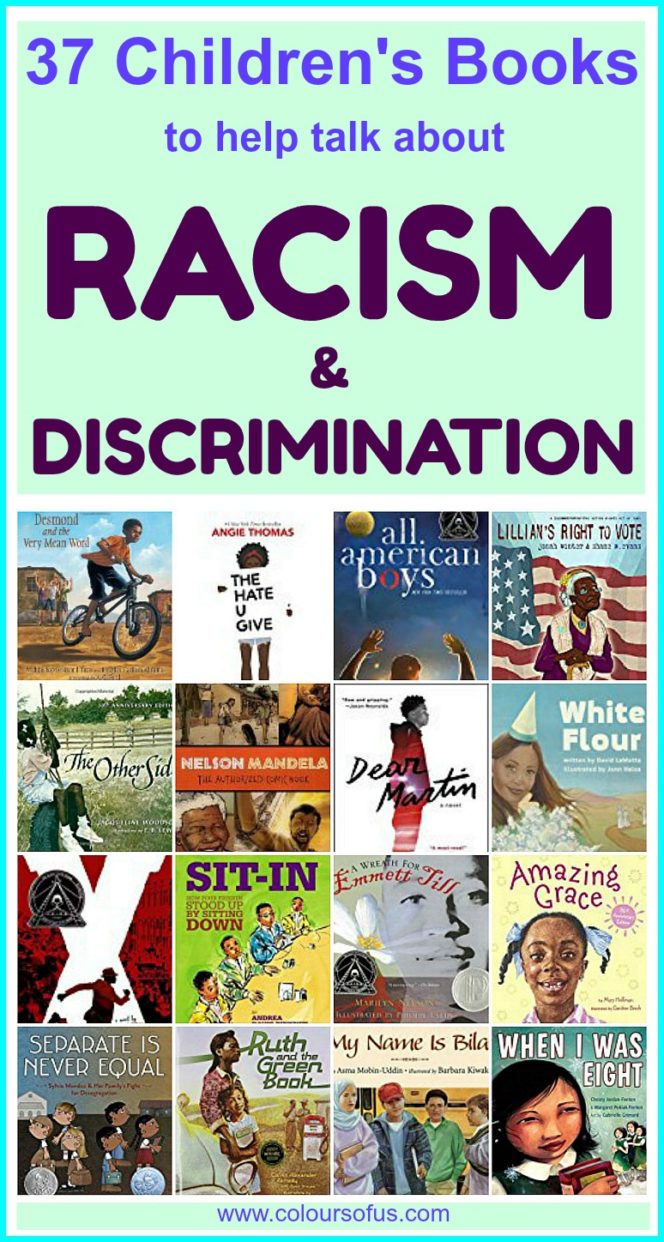 "I have a dream
that my four little children will one day live in a nation
where they will not be judged by the color of their skin
but by the content of their character."
~ Dr. Martin Luther King
Sadly, the above part of Martin Luther King's famous dream still hasn't come true and racism is very much alive and well in America (as well as in many other parts of the world).
Talking to our children about racism and discrimination is as necessary as it is uncomfortable for most parents (especially white parents). Necessary because racial bias in children starts as early as from the age of 3; uncomfortable because it means we have to address our own racial biases, too.
These multicultural children's books are a selection of picture books and novels about the past and the present. They can be helpful for talking to your children (Elementary to High School) about racism and its devastating consequences.
---
37 Children's Books to help talk about Racism & Discrimination
---
Elementary School
---
The Story Of Ruby Bridges
by Robert Coles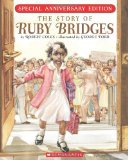 In 1960 a judge orders little Ruby to attend first grade at William Frantz Elementary, an all-white school in New Orleans. Surrounded by Federal Marshalls, Ruby faces angry mobs of segregationists as she walks through the school door on her first day (and many after). Being the only student in her class she is taught by a supportive teacher. With simple text and engaging watercolour illustrations, The Story of Ruby Bridges is a moving picture book about a little girl's calm perseverance and gracious forgiveness in the ugly face of hate and racism. ~ African – Elementary School
Related: 26 Multicultural Picture Books about Inspiring Women & Girls 
---
Let's Talk About Race
by Julius Lester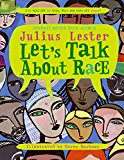 "I am a story. So are you. So is everyone." In this acclaimed book, Julius Lester shares his own story as he explores what makes each of us special. He emphasizes that race is just one of many facets of a person. With stunning illustrations and engaging text, Let's Talk About Race will appeal to young readers and is sure to spark further conversations about race and racism. ~ Diverse – Elementary School
---
Separate Is Never Equal: Sylvia Mendez and Her Family's Fight for Desegregation
by Duncan Tonatiuh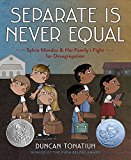 In 1944 Sylvia Mendez, an American citizen of Mexican and Puerto Rican heritage who spoke and wrote perfect English, was denied enrollment to a "Whites only" school. With the help of the Hispanic community, her parents filed and won a lawsuit in federal district court. Their success eventually led to the end of segregated education in California. Separate Is Never Equal tells Sylvia's story in a touching and accessible way. ~ Hispanic – Elementary School
Related: 32 Multicultural Picture Books About Strong Female Role Models
---
What I See: Anti-Asian Racism From The Eyes Of A Child
by Christine T. Leung
What I See is a beautifully illustrated, lyrical picture book about anti-Asian racism, from the child's own perspective. The rise in xenophobia and anti-Asian hate incidents can be scary and confusing for kids This book is an easy-to-follow guide for the child to reflect, ask questions, and learn more about this important topic. Includes notes for parents and caregivers as well as the sample questions and child-friendly definitions. ~ Asian – Elementary School
Related: 180+ Asian & Asian American Books For Children & Teenagers
---
Desmond and the Very Mean Word
by Desmond Tutu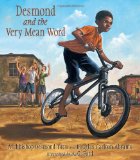 Desmond's pride and joy about his new bicycle turn to hurt and anger when some boys shout a very mean word at him. Responding with an insult, Desmond soon realizes that fighting mean with mean doesn't make him feel any better. Based on Desmond Tutu's childhood experiences, Desmond and the Very Mean Word is a touching story about compassion and forgiveness. ~ African – Elementary School
Related: 9 Children's Books about Nelson Mandela & Desmond Tutu
---
Nina: A Story of Nina Simone
by Traci N. Todd
Little Eunice sang before she talked and learned to play piano at a very young age. With the support of her family and community, she received music lessons and went on to perform under the name Nina Simone. Nina's voice soon became a thunderous roar as she raised her voice in powerful protest in the fight against racial inequality and discrimination. With expressive illustrations, Nina: A Story of Nina Simone tells the extraordinary story of acclaimed singer Nina Simone and her bold, defiant, and exultant legacy. ~ African – Elementary School
Related: 40 Multicultural Children's Books About Fabulous Female Artists
---
A Computer Called Katherine
by Suzanne Slade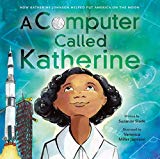 Katherine knew it was wrong that African Americans didn't have the same rights as others. She knew it was wrong that people thought women could only be teachers or nurses. And she proved everyone wrong by zooming ahead of her classmates, starting college at fifteen, and eventually joining NASA. Vibrantly illustrated A Computer Called Katherine is the inspiring true story of NASA mathematician Katherine Johnson whose calculations helped pioneer America's first manned flight into space and to the moon. ~ African – Elementary School
Related: 30 Diverse Children's Anthologies About Trailblazing Women
---
White Flour
by David LaMotte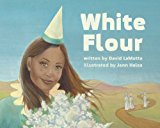 Based on true events, White Flour tells the story of a whimsical and effective response to a Ku Klux Klan rally in Knoxville, Tennessee in May 2007. The Coup Clutz Clowns trumped hatred with humour by 'misunderstanding' the racist's "White Power" shouts. With vivid rhymes and colourful illustrations, this picture book provides a great example of a non-violent response to racist aggression. ~ Diverse – Elementary School
---
Lillian's Right to Vote
by Jonah Winter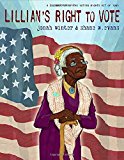 Slowly making her way up a hill to the polling station to vote, 100-year-old Lillian remembers her family's tumultuous voting history: Her great-grandfather voting for the first time, her parents trying to register to vote, herself marching in a protest from Selma to Montgomery. Beautifully illustrated Lillian's Right to Vote is a moving and lyrical account of black people's fight for voting rights. ~ African – Elementary School
Related: 18 Multicultural Children's Books About Voting & Elections
---
---
Ruth and the Green Book
by Calvin Alexander Ramsey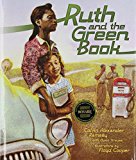 When Ruth and her family go on a trip in their new car in the early 1950's, they soon realize that black travellers aren't welcome everywhere. Many hotels and gas stations refuse service to the family. Eventually, someone gives them a book that lists all the places that welcome black travellers. The Green Book is a poignant story about racial discrimination in the Jim Crow era, brought to life by expressive watercolour illustrations. ~ African – Elementary School
---
Sit-In: How Four Friends Stood Up by Sitting Down
by Andrea Davis Pinkney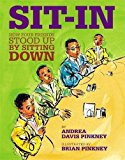 "It was February 1, 1960. / They didn't need menus. / Their order was simple. / A doughnut and coffee, with cream on the side." Sit-In celebrates an important milestone in the fight for racial equality: The momentous Woolworth lunch counter sit-in, staged by four young college students. With dynamic illustrations and poetic text, this compelling picture book is a great starting point for conversations about racism and discrimination. ~ African – Elementary School
Related: 21 Picture Books for Black History Month
---
The Other Side
by Jacqueline Woodson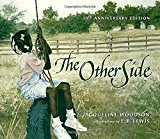 The Other Side tells the touching story of a friendship during segregation. Clover's mom warns her that it is dangerous to cross the fence between their side of town and the white side where Anna lives. But the two girls meet across the fence and strike up a friendship anyway. Expressive watercolour illustrations complement the lyrical narrative perfectly. ~ African – Elementary School
Related: 18 Multicultural Children's Books about Friendship
---
Shining Star: The Anna May Wong Story
by Paula Yoo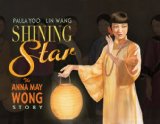 Stunningly illustrated Shining Star tells the rags-to-riches story of Anna May Wong, a Chinese American Hollywood star in the 1930s and 1940s. Wong confronted racial discrimination and stereotypes and broke new ground for future generations of Asian American actors. ~ Asian – Elementary School
Related: 30 Asian & Asian American Children's Books
---
Amazing Grace
by Mary Hoffman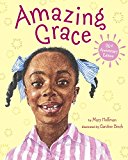 We adore spunky Grace and her love for re-enacting stories, be they from books, movies, or her grandmother. But when she wants to play the lead role in a Peter Pan school play, her classmates tell her she cannot do it because she is a girl and because she is black. With the support of her family and after seeing a black ballerina perform, Grace remains determined to win the lead role. With expressive watercolour illustrations and a strong main character, Amazing Grace is an engaging story about challenging gender and racial stereotypes. ~ African – Elementary School
Find the whole Grace series here: 40+ Multicultural Book Series for Girls & Boys
---
The Soccer Fence
by Phil Bildner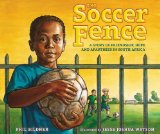 Little Hector loves playing soccer and dreams of playing on a real pitch with the white boys. When apartheid slowly starts to crumble and the national soccer team wins the African Cup of Nations, Hector's dream suddenly doesn't seem so impossible anymore. With simple text and expressive pencil and acrylic illustrations, The Soccer Fence tells a story of hope and change. Includes a (quite advanced) timeline of historical events.  ~ African – Elementary School
Related: 23 Children's Books set in South Africa
---
The Case for Loving: The Fight for Interracial Marriage
by Selina Alko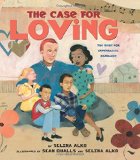 Because he was white and she was African American and Cherokee, Mildred and Richard Loving were not permitted to marry under Virginia's law in 1958. The couple got married in Washington, D.C., but when they moved back to Virginia, they were arrested. Mildred and Richard fought the discriminatory law all the way to the Supreme Court, and won! The Case for Loving is an inspiring story about a couple who changed the world for interracial couples and opened people's eyes to the unfairness of any law that restricts whom you are allowed to love. ~ African – Elementary School
For a more in-depth review of this book, go to: Multicultural Book of the Month: The Case for Loving
---
---
If A Bus Could Talk: The Story of Rosa Parks
by Faith Ringgold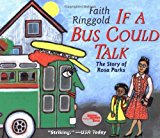 On a magical bus ride to school, Marcie learns about the story of Rosa Parks, the mother of the Civil Rights movement. She even meets Rosa Parks and some other distinguished guests at a birthday party. Illustrated with colourful folk-art style paintings, If a Bus Could Talk tells Rosa Park's story in an unusual and bold way. ~ African – Elementary School
Related: Author Spotlight: Faith Ringgold // 21 Picture Books for Black History Month
---
When I Was Eight
by Christy Jordan-Fenton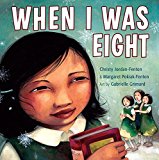 Strong-willed Olemaun wants to learn to read and persuades her father to let her go to residential school, despite his concerns. At the Catholic-run school, the Inuit girl is stripped of her Native identity, humiliated and treated harshly. Remaining undaunted, Olemaun draws the attention of one nun who tries to break her spirit. When I was Eight is a stunning picture book adaptation of the bestselling memoir Fatty Legs, a tribute to the power of the human spirit. ~ Diverse – Elementary School
Related: 32 Native American Children's Books
---
Harlem's Little Blackbird
by Renee Watson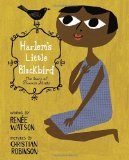 Harlem's Little Blackbird tells the story of Florence Mills, an African American singer born in 1896. In poetic text, complemented by stunning paper-cut illustrations, the story follows Mills from singing with her mother to breaking into the musical world despite facing racial discrimination. Mills declined the role of a lifetime and chose to support all-black musicals instead by only performing in shows with unknown black singers and actors.  ~ African – Elementary School
Related: 15 Children's Books about the Harlem Renaissance
---
Nelson Mandela
by Kadir Nelson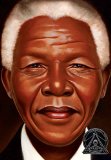 The captivating portrait on the cover draws the young reader right into this award-winning picture book biography. In poignant free verse and with the most stunning, powerful paintings, Nelson Mandela tells the story of Mandela's life, from his tribal childhood to the triumph of his election as President of South Africa. ~ African – Elementary School
Related: 9 Children's Books about Nelson Mandela & Desmond Tutu
---
My Name Is Bilal
by Asma Mobin-Uddin MD M.D.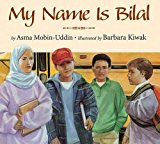 After moving to a new place, Bilal and his sister Ayesha start at a new school where they are the only Muslims. When Bilal sees his sister bullied on their first day, he worries about being teased himself and decides not to let his classmates know that he is Muslim. My Name Is Bilal is a heartfelt story about a young boy struggling with his identity and a great starting point for discussions about prejudice and discrimination. ~ Asian – Elementary School, Middle School
Related: 20 Multicultural Children's Books about Bullying
---
Voice of Freedom: Fannie Lou Hamer
by Carole Boston Weatherford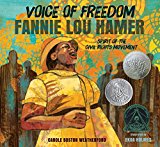 This striking picture book biography chronicles the life of Fannie Lou Hamer, one of the civil rights movement's most inspiring leaders. With free-verse text, coupled with spirituals and quotes, and with stunning quilt-like collages, Voice of Freedom makes this amazing woman's life story accessible to young readers. ~ African – Elementary School, Middle School
For a more in-depth review of this book, go to: Multicultural Book of the Month: Voice of Freedom
---
We Troubled the Waters
by Ntozake Shange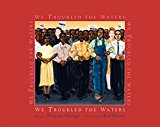 With stirring poetry and striking illustrations We Troubled The Waters gives a voice to the everyday and extraordinary people who fought for racial justice during the civil rights movement. From the "Cleaning Gal" and the "Garbage Boys" to Martin Luther King, Jr., Malcolm X, and Rosa Parks, this heartfelt book captures the spirit of the civil rights movement beautifully. ~ African – Middle School
More poetry books: 26 Multicultural Poetry Books for Children
---
---
Middle School
---
Roll of Thunder, Hear My Cry
by Mildred D. Taylor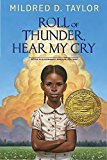 Set in Mississippi at the height of the Depression, Roll of Thunder, Hear My Cry tells of one family's struggle to maintain their integrity, pride, and independence in the face of racism and social injustice. This classic masterpiece focuses on Cassie Logan, an independent girl who discovers why having land of their own is so crucial to the Logan family, and learns to draw strength from her own sense of dignity and self-respect. ~ African – Middle School
Related:  21 Award-winning Children's Books for Black History Month
---
The Samosa Rebellion
by Shanthi Sekaran
Muki Krishnan shares a bedroom with Paati, his grandmother, who has just arrived on the island of Mariposa from India. Soon after her arrival, the president divides citizens into 'Butterflies'—families who have lived in Mariposa for three generations—and 'Moths', who, like Muki's family, are more recent immigrants. The changes are small at first but then a camp is built to imprison Moths before sending them away. When Paati is taken there, Muki discovers that a secret rebellion is underway, and realizes that rescuing Paati will be the fight of his life. The Samos Rebellion is a fascinating and timely novel about immigration, racism, classism, and xenophobia. ~ Asian – Middle School
Related: 180+ Asian &  Asian American Books For Children & Teenagers
---
Hidden Figures Young Readers' Edition
by Margot Lee Shetterly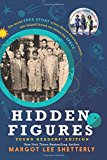 Hidden Figures tells the amazing true story of four African American female mathematicians at NASA. Despite facing gender discrimination and racial prejudice, these "human computers" helped achieve some of the greatest moments in the US's space program by calculating the numbers that would launch rockets into space. ~ African – Middle School
Related: 50+ Multicultural STEAM Books for Children
---
Defiant: Growing Up in the Jim Crow South
by Wade Hudson
Born in 1946 in Mansfield, Louisiana, Wade Hudson came of age against the backdrop of the Civil Rights Movement. His close-knit family watched as the country grappled with desegregation, as the Klan targeted the Sixteenth Street Baptist Church in Birmingham, Alabama, and as systemic racism struck across the nation and in their hometown. Amidst it all, Wade was growing up. Getting into scuffles, playing baseball, immersing himself in his church community, and starting to write. Most important, Wade learned how to find his voice and use it. Defiant is a compelling memoir about the struggles, joys, love, and resilience that it took to grow up Black in segregated America. ~ African – Middle School
---
Stella by Starlight
by Sharon M. Draper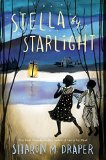 One night 11-year-old Stella and her brother witness a Ku Klux Klan meeting in the North Carolina woods. For the African American siblings, living in the South is a dangerous, scary and often humiliating experience. Stella by Starlight is a gripping and realistic portrayal of life in the segregated South during the Great Depression. ~ African –  Middle School
Related: African American Historical Fiction for Middle School
---
Piece by Piece: The Story of Nisrin's Hijab
by Priya Huq
The same day 13-year-old Bangladeshi-American Nisrin gives a school presentation about Bangladesh while wearing a traditional cultural dress, she is violently attacked on her way home. Deeply traumatized, Nisrin spends the summer depressed and isolated until it's time for her to start freshman year at a new school. The night before, Nisrin decides that she is going to start wearing hijab. Her mother and grandparent's shocked and angry reactions confuse her—but they only strengthen her resolve. Piece by Piece is a moving graphic novel about choosing your own path despite discrimination. ~ Asian – Middle School
Related: 180+ Asian & Asian American Books For Children & Teenagers
---
Brown Girl Dreaming
by Jacqueline Woodson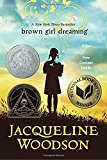 Brown Girl Dreaming is an intimate and moving account of the author's childhood as an African American in the 1960's and 1970's. Growing up in South Carolina and New York, she becomes increasingly aware of the Civil Rights Movement. In poetic language full of imagery this award-winning book gives a glimpse into a child's soul and her journey of self-discovery. ~ African – Middle School
Related: 21 Multicultural Middle-Grade Novels for Summer Reading // African – Middle School
---
The Absolutely True Diary of a Part-Time Indian
by Sherman Alexie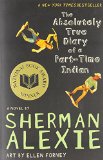 Junior, an aspiring cartoonist, leaves his school on the Spokane Indian Reservation to attend an all-white farm town school. Based on the author's own experiences, The Absolute True Diary of a Part-time Indian is a heartbreaking, funny, and beautifully written novel about the contemporary adolescence of a Native American boy. Illustrated with poignant cartoon-style drawings. ~ Diverse – Middle School
---
Nelson Mandela: The Authorized Comic Book
by The Nelson Mandela Foundation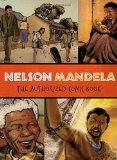 Adapted from Nelson Mandela's memoir Long Road to Freedom, this is his authorized graphic biography. Nelson Mandela tells his life story in dramatic pictures, from his childhood to his years as the first black president of South Africa. The comic book form together with new interviews, firsthand accounts, and archival material makes the story of Mandela's life and work accessible for teenagers. ~ African – Middle School, High School
---
A Wreath for Emmett Till
by Marilyn Nelson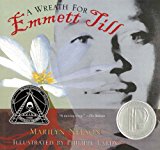 In 1955, fourteen-year-old Emmett Till was lynched for supposedly whistling at a white woman in Mississippi. The brutality of his murder, the open-casket funeral and the acquittal of the men tried for the crime drew wide media attention. Award-winning A Wreath for Emmett Till is a moving and chilling poem about the boy whose fate helped spark the civil rights movement. ~ African – Middle School, High School
Related:  21 Award-winning Children's Books for Black History Month
---
---
High School
---
The Hate U Give
by Angi Thomas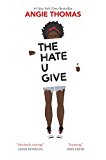 16-year-old Starr is balancing life between her poor neighbourhood and her fancy suburban school. When her unarmed best friend Khalil is killed at the hands of a police officer, his death is making national headlines and protesters are taking to the streets. As the only person who knows what really happened that night, Starr is caught between threats from the police and the local drug lord, protecting her community and risking her own life. No.1 New York Times Bestseller The Hate You Give is a powerful and heart-wrenching novel about police brutality and systemic racism. ~ African – High School
---
X: A Novel
by Ilyasah Shabazz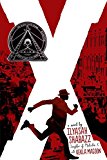 Co-written by Malcolm X's daughter, X follows the formative years of one of the most powerful leaders in African American history. From his father being murdered, his mother being taken away, and himself being placed in foster care, to his imprisonment for theft at age twenty, when he found the faith that would guide him onto a new path, X is an award-winning novel about a man who shook the world. ~ African – High School
Related: 21 Award-winning Children's Books for Black History Month
---
I Am Alfonso Jones
by Toni Medina
Alfonso Jones can't wait to play the role of Hamlet in his school's hip-hop rendition of the classic Shakespearean play. He also wants to let his best friend, Danetta, know how he really feels about her. But as he is buying his first suit, an off-duty police officer mistakes a clothes hanger for a gun and shoots him. When Alfonso wakes up in the afterlife, he's on a ghost train guided by well-known victims of police shootings. Meanwhile his family and friends seek justice for Alfonso in the streets. As they confront their new realities, both Alfonso and those he loves realize the work that lies ahead in the fight for justice. Acclaimed I Am Alfonso Jones is a graphic novel about racism, police brutality and the Black Lives Matter movement. ~ African – High School
Related: 80+ Multicultural Graphic Novels for Children & Teenagers
---
Dear Martin
by Nic Stone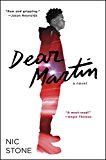 Due to be released in October, this stunning debut is another novel about racial prejudice and police brutality. Top of his class and set for the Ivy League, Justyce writes a journal to Martin Lurther King Jr in an attempt to make sense of a police encounter in which he was treated roughly and unfairly. When he is caught up in another police encounter in which shots are fired, Justyce finds himself under attack in the media. Dear Martin is a compelling must-read that tackles the myth that if you don't do anything wrong you have nothing to fear from the police. ~ African – High School
---
Kneel
by Candace Buford
For Russell Boudreaux football is the only way out of his small town. He has one goal: to get a scholarship and play on the national stage. But when his best friend is unfairly arrested and kicked off the team, Rus faces an impossible choice: speak up or live in fear. Desperate for change, Rus kneels during the national anthem. In one instant, he falls from local stardom and becomes a target for hatred. But with the help of his best friend and an unlikely ally, Rus will fight for his dreams, and for justice. Kneel is a fearless debut novel that explores racism, injustice, and self-expression. ~ African – High School
---
Shine, Coconut Moon
by Neesha Meminger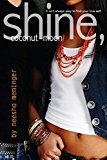 Indian American Samar's mother has always kept her away from her old-fashioned family. But shortly after 9/11, her uncle shows up, wanting to reconcile and teach the teenager about her Sikh heritage. When some boys attack her uncle, shouting "Go home Osama!" Samar realizes how dangerous ignorance is. Shine, Coconut Moon is a poignant story about identity, prejudice, and difference. ~ Asian – High School
Related: 180+ Asian & Asian American Books For Children & Teenagers
---
Black Birds in the Sky: The Story and Legacy of the 1921 Tulsa Race Massacre
by Brandy Colbert
In the early morning of June 1, 1921, a white mob marched across the train tracks in Tulsa, Oklahoma, and into its predominantly Black Greenwood District—a thriving, affluent neighborhood known as America's Black Wall Street. They brought with them firearms, gasoline, and explosives. In a few short hours, they'd razed thirty-five square blocks to the ground, leaving hundreds dead. The Tulsa Race Massacre is one of the most devastating acts of racial violence in US history. But how did it come to pass? What exactly happened? And why are the events unknown to so many of us today? Black Birds In The Sky seeks to answer these questions in this unflinching nonfiction account of the Tulsa Race Massacre. ~ African – High School
Related: NEW 2021 Black History Books For Children & Teenagers
---
Monster
by Walter Dean Myers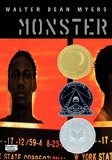 "Sometimes I feel like I have walked into the middle of a movie. Maybe I can make my own movie. The film will be the story of my life. No, not my life, but of this experience. I'll call it what the lady prosecutor called me … Monster." Multi-award-winning Monster chronicles the unfair court proceedings for Steve Harmon, a teenager accused of murder and robbery. Written as a screenplay playing in Steve's imagination, coupled with his journal entries, this heart-wrenching novel highlights the racism deeply ingrained in the American justice system. ~ African – High School
Also available as a stunning black-and-white graphic novel adaptation: Monster: A Graphic Novel
---
---
Claudette Colvin: Twice Toward Justice
by Phillip Hoose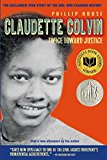 "When it comes to justice, there is no easy way to get it. You can't sugarcoat it. You have to take a stand and say, 'This is not right.'" On March 2, 1955, Claudette Colvin refused to give her seat to a white woman on a segregated bus in Montgomery, Alabama. Instead of being celebrated as Rosa Parks would be nine months later, the teenager found herself shunned. Undaunted, a year later she became a key plaintiff in Browder v. Gayle, the landmark case that struck down the segregation laws of Montgomery. Based on extensive interviews with Claudette Colvin and many others, Twice towards Justice is an in-depth account of an important yet largely unknown civil rights figure. ~ African – High School
---
How It Went Down
by Kekla Magoon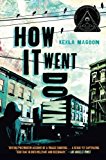 When Black teenager Tariq Johnson is fatally shot by a White man, his whole community is turned upside down. While the truth is obscured by new twists every day, Tariq's family is trying to cope with their loss. How It Went Down is a compelling and timely novel about racial prejudice and its devastating consequences. ~ African – High School
---
The Lines We Cross
by Randa Abdel-Fattah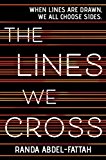 Set in Australia, this timely new release tells the story of Michael who attends anti-immigration protests with his parents, and Mina, a refugee from Afghanistan, who is on the other side of the protest lines. When Mina starts at Michael's school, the two teenagers enter into an unlikely relationship. With increasing discrimination against immigrants, Michael and Mina have to face difficult decisions. The Lines We Cross is a poignant and thought-provoking Romeo-and-Juliet story about prejudice and discrimination against Muslim immigrants. ~ Asian – High School
Related: 30 Multicultural Picture Books about Immigration
---
All American Boys
by Jason Reynolds & Brendan Kiely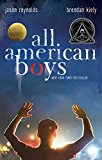 When 16-year-old Rashad goes to buy a packet of chips at the corner shop, he finds himself mistaken for a shoplifter and beaten up by the police. Soon the incident is all over the news and simmering racial tensions get to the point of explosion. Written by two award-winning authors and alternating between the perspectives of one black and one white teenager, All American Boys is a moving novel about privilege and racism that every teenager should read. ~ African – High School
Related: 150 Children's Books Celebrating Black Boys
---
March: Book Three
by John Lewis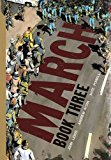 March: Book Three is the stunning conclusion of the award-winning trilogy by congressman and civil rights key figure John Lewis. Starting in 1963, the book describes the continuing struggle for justice. With an unpredictable new president and fractures within the movement deepening, 25-year-old John Lewis risks everything in a historic showdown high above the Alabama river, in a town called Selma. With expressive black-and-white illustrations, this unique graphic novel makes the history of the civil rights movement accessible to teenagers. ~ African – High School
Complete trilogy: March (Trilogy Slipcase Set)
Related: 80+ Multicultural Graphic Novels for Children & Teenagers
---
*You can buy any of the books on this site from Amazon USA by clicking on the book titles or images*
---
---